Gerald VanVoorhis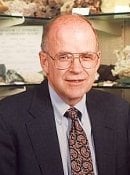 BS Geological Engineering 1960
Gerald Van Voorhis graduated with a BS in geophysical engineering from Michigan Tech in 1960 and was a geophysicist with the US Coast and Geodetic Survey from 1961 to 1964, when he returned to Tech for a masters in geophysics. Then he went to work for Bear Creek Mining Company (the Exploration division of Kennecott) as Chief of their Geophysical Research Division from 1964 to 1973. Eventually he became Vice President of Exploration at Kennecott from 1981-85, a period when there were several famous deposits discovered, including the Lihi gold deposit in Papua New Guinea, the Crixas Gold deposit in Brazil, the Rawhide and Pointer gold deposits in Nevada, and the Alacran silver deposit in Mexico.
In 1985 Gerald started his own exploration and mining business. In 1992 he joined ASARCO Incorporated as Vice President of Exploration and in 1993 he was elected to the ASARCO Management committee. He is head of several of ASARCO's international exploration subsidiaries and is also chairman of KAMGEO, a Russian company that is developing the Aginskoe gold deposit in Kamchatka.
He came here from Salt Lake City with his wife Mary Lou, who we are happy to welcome with him on this happy night.
From 1995 Induction to the Geological and Mining Engineering and Sciences Academy