George H. Williams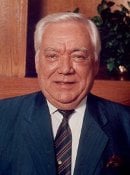 BS Civil Engineering 1952
A native of Hancock, Mr. George H. Williams earned his baccalaureate in civil engineering from Michigan Tech in 1952. During his student years, he was active in ASCE, Kappa Delta Psi, the Varsity Club, Student Council, the Athletic Board, and the Varsity Hockey Team.
Following graduation, he worked for E.I. duPont de Nemours Company, Construction Division in Delaware as an assistant contract engineer. In 1955, he accepted a field engineer position with Western Knapp Engineering Company of Hibbing, Minnesota, which later was absorbed into the Davy-McKee Corporation. He was promoted to field superintendent in 1958, and to construction manager in 1960, and to project manager in 1962.
George returned to the Keweenaw in 1963 as manager of engineering maintenance and construction for the Calumet Division of Calumet and Hecla Company. When Calumet and Hecla closed in 1968, George returned to Davy-McKee and went to Chile as project manager for a joint venture with Bechtel. In 1972, he joined McKee Ingenieros in Madrid, Spain as a project manager for a joint venture with Rio Tinto Patino on a smelter expansion. In 1975, he was promoted to vice president and general manager of McKee Ingenieros. In 1978, he was named vice president and general manager of A.G. McKee de Mexico. He retired from Davy-McKee in 1985 and founded Williams Associates with offices in Houghton and Oakdale, Ontario. His projects with Williams Associates have included material handling for a multi-million dollar metal stamping plant at Milton, Ontario and a 242 million dollar expansion of an Indonesian nickel plant.
Recently, Mr. Williams has been active as an engineering practitioner-lecturer in giving presentations to senior and graduate engineering students on "International Engineering Projects", and related topics. Mr. Williams is a member of the Michigan Tech President's Club, and has served as a Century II Campaign Volunteer. In 1986, he received the Michigan Tech Board of Trustees Silver Medal. George and his wife "Babe" (the former Eleanor Kirkish of Houghton) have four sons and a daughter and reside in Houghton. All four of their sons received degrees from Michigan Tech.
From 1995 Induction to the Civil and Environmental Engineering Academy