George Miller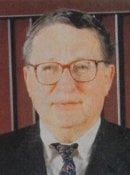 BS Chemical Engineering 1959
Mr. George Miller, a native of Monroe, Michigan, received a BS in Chemical Engineering in 1959. While at Michigan Tech, he was a member of Delta Sigma Phi Fraternity and active in the AIChE Student Chapter. Upon graduation, he was commissioned a Second Lieutenant and assigned to Keester Air Force Base in Biloxi, Mississippi and finally to Headquarters 8th Air Force in Springfield Massachusetts. Leaving the Air Force in 1962, Mr. Miller joined Stauffer Chemical Company.
Over the next several years, Mr. Miller worked in Sales and Product Engineering before being promoted to Regional Sales Manager and then Marketing Manager for Catalyst and Intermediates. In 1975 he became business Manager for this business group and Vice President for the Joint Venture Company, Texas Alkyls. During this period, Mr. Miller was assigned to Geneva, Switzerland as Director, General Chemicals. Stauffer than merged with Cheseborough-Ponds and subsequently was purchased by Akzo Chemical of the Netherlands.
While in the Netherlands, Mr. Miller was assigned to the Fine and Functional Chemicals as group General Manager, then promoted to group Vice President and finally President, Functional Chemicals, a worldwide business of approximately Dfl 700 million, or $350 million. He retired on January 1, 1997 and settled in Easton, Maryland on the Eastern Shore of Chesapeake Bay. Mr. Miller has been active in the Junior Chamber of Commerce, Treasurer of the Danbury Chapter of Ducks Unlimited, and President of the Pahquioque Rod and Gun Club. In Europe he was Chief of the Audit Committee for La Douille Club of Geneva.
From 1998 Induction to the Department of Chemical Engineering Academy