George R. McGinn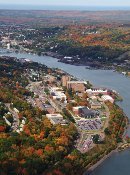 BS Geological Engineering 1955
George graduated from Sudbury Mining and Technical School in 1949 with an emphasis on geology and mining. Following this, he was hired by INCO to do surveying and diamond drilling and later promoted to a contract miner.
In 1955, George graduated from Michigan Tech with a B.S. in Geological Engineering. He then joined Mobil where he remained for over 36 years until his retirement in 1992. During his tenure with Mobil, George worked in Calgary, Edmonton, and Athabasca Canada as well as New York and Denver, CO.
His job titles included: Senior Geologist responsible for developing oil and gas prospects; Senior Exploration Advisor in the areas of phosphate, potash, and sulfur opportunities; Corporate Advisor of Exploration and Producing which included evaluating business opportunities in oil shale, coal, uranium, oil sands, nickel, copper, gypsum, and diamonds; Manager of Energy and Mineral Foreign which resulted in a major coal mine in Indonesia; General Manager of Exploration for coal and minerals; and President of Mobil Coal and Vice President of Mobil Mining and Minerals.
From 2002 Induction to the Geological and Mining Engineering and Sciences Academy