George H. Hermanson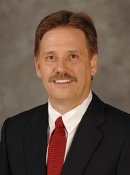 MS Civil Engineering 1975
BS Civil Engineering 1973
George Hermanson completed his baccalaureate degree in civil engineering 1973 and his master's degree in 1975. He is Senior Vice-President and Principal of Hole Montes, Inc. in Naples, Florida, a 135-person consulting engineering firm specializing in civil and environmental engineering. Mr. Hermanson has been with Hole Montes for 23 years and a principal and shareholder for 10. During that time he has overseen major land development projects in southwest Florida encompassing over 20,000 total acres, 12,000 residential units, and over 1 million square feet of commercial retail and office space. The multi-use projects under his direction have included: educational and institutional facilities, hospitals, industrial parks, office buildings and shopping centers.
Mr. Hermanson serves on multiple boards in Collier County including: Water Management Advisory Board, Environmental Advisory Board, and Development of Services Advisory Board. He also has a Gubernatorial appointment to the Big Cypress Basin of the South Florida Water Management District.
George and his wife, Pat, have lived in Naples, Florida for 28 years. They enjoy spending time in Breckenridge, Colorado with their two children; Nick who is a senior at Rollins College in Winter Park, Florida and Marissa who is a junior at the University of Colorado.
From 2007 Induction to the Civil and Environmental Engineering Academy