George R. Ehlert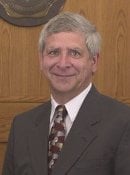 BS Civil Engineering 1977
Mr. George Ehlert, President of Ehlert/Bryan, Inc., is originally from Madison Heights, Michigan. He earned his baccalaureate degree in civil engineering from Michigan Tech in 1977. Following graduation he was employed by A.G. McKee Co. in Hibbing, Minnesota. In 1979 he joined William Paxton & Associates of Southfield, Michigan as Vice President. In 1981 he went into partnership with Wayne Bryan forming Ehlert/Bryan, Inc., a consulting engineering firm specializing in structural engineering. Ehlert/Bryan, Inc. received the ESD Construction & Design Award in 1997 & 2001and is well known for integrating architectural design with structural design components.
George has been active in numerous professional associations including the Structural Engineers Association of Michigan - Steering Committee, Structural Engineers Risk Management Council, and is a past President of the Consulting Engineers Council of Michigan. He is a Professional Engineer in Michigan and sixteen other states. He is also active in the community and is a past President of the South Lyon School Board.
George served on the Civil and Environmental Engineering Professional Advisory Committee from 1985-93. George and his wife, Georganne, who is also a Michigan Tech grad in Metallurgical and Materials Engineering, are strong supporters of Michigan Tech and are both members of the Alumni Association and the Presidents Society. The Ehlert's have three children and reside in South Lyon, Michigan.
From 2001 Induction to the Civil and Environmental Engineering Academy