Gary D. Aho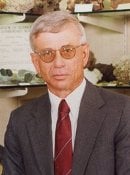 MS Applied Geophysics 1969
BS Applied Geophysics 1968
In 1979, Gary started his career at Cleveland Cliffs Iron Company in Ishpeming, Michigan. After an increasing number of western assignments, he moved to Colorado where he became CCI's Chief Engineer and soon after, Manager of the Western Division. He is a national authority on oil shale and served as chairman of the National Oil Shale Association.
Gary has had a distinguished career of professional publications, diverse program and venture management for his company and varied public service to governments, universities and professional organizations. Some highlights include Director of the Colorado Mining Association, Chair of the American Mining Congress, Synfuel Subcommittee, committee service to both the University of Kentucky and the University of Colorado School of Mines, Chairman for Ducks Unlimited and President of the Rifle (CO) High School Booster Club.
Gary was raised in the Upper Peninsula and graduated from Newberry High School. He then went on to Michigan Technological University where he received a BS in Applied Geophysics in 1968. Gary then worked with Lloyal Bacon on a project doing reflection seismic studies of the Jacobsville sandstone terrains and received his MS degree in Geophysics in 1969.
From 1997 Induction to the Geological and Mining Engineering and Sciences Academy