Frank G. Woodruff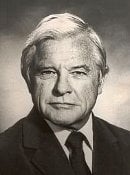 Honorary PhD Engineering 1985
BS Mining 1940
BS Geology 1939
Retired President and Chief Operating Officer, Gulf Resources & Chemical Company
The late Frank Woodruff received a BS in Mining Engineering (1940) and Geology (1939) from the Michigan College of Mining and Technology. He received an Honorary Doctorate of Engineering from Michigan Tech in 1985.
After graduation, he served in the U.S. Army Corps of Engineers and went on to hold many positions with various mining companies. In 1954, he joined Kennecott Copper Corp., which began a distinguished 16-year career in the Nevada, Arizona and New Mexico Divisions. In 1970, he became President and General Manager of Bunker Hill Co., a subsidiary of Gulf Resources & Chemical Company, in Spokane, WA. He was appointed President and COO for Gulf Resources in 1975, where he remained until his retirement in 1982.
He received the Board of Trustees Silver Medal in 1978 and the Distinguished Alumnus Award in 1984. He served on the Michigan Tech Board of Trustees from 1975-84, and as its President from 1982-84. He is a member of the Presidents Club, McNair and Second Century Societies, and was Vice Chairman of the Century II Campaign. He served as President of the New Mexico Mining Association and Director of Standard Bank in Houston, TX. He has been a member of SME, AIME, American Mining Congress, Newcomen Society, and the Mining Club of the Southwest.
Frank was very committed to the advancement of education for young people. He was awarded the Silver Beaver Award for his support of the scouting movement. He served on school boards in New Jersey and Arizona and was instrumental in the formation of a new regional high school in Morris Hills, NJ. A Frank G. Woodruff memorial scholarship has been established in the Mining Engineering Department in his honor.
He is survived by his wife, Mary Woodruff Krohn, seven children and twelve grandchildren.
From 1996 Induction to the Geological and Mining Engineering and Sciences Academy