Floyd H. Lee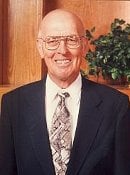 Floyd Lee received his BS in Mining Engineering from Michigan Tech.
After graduation, he spent four years in the U.S. Army Combat Engineers in the Pacific. Prior to joining Hanna in 1949, he held mining engineering positions with the Oliver Iron Mining Company and in Bolivia. With Hanna, he held a series of positions in Michigan, Minnesota, Missouri, and finally Cleveland, where he retired. He was a member of AIME and the AMC.
He was honored with the Michigan Tech's Board of Trustees Silver Medal in 1972 and served on the Michigan Tech Fund Board of Trustees for ten years. He also chaired the Class of 1941 50th anniversary gift committee and is a member of the Presidents Club. He is very active in several civic and service organizations including the Red Cross, Interfaith Assistance Ministry, Habitat for Humanity, and West North Carolina Literary Council.
From 1995 Induction to the Geological and Mining Engineering and Sciences Academy