Fay L. Partlo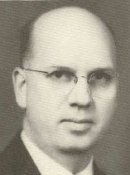 Retired President, South Dakota School of Mines; Various positions at Michigan Tech, included: instructor, assistant professor and professor of Mathematics and Physics, head of the Mathematics and Physics department; Dean of the College of Engineering, Director of Extension Activities; While Dean, served as President for the Study Group on Engineering Education of the Michigan Council of State College Presidents; President Emeritus and Professor of Physics Emeritus, South Dakota School of Mines; Member, Michigan Tech Presidents Club; Treasurer, Michigan Tech Alumni Association; Active in AIME and Blue Key with an honorary society membership; Listed in "Who's Who in American Education," and in "American Men of Science."
Fay L. Partlo graduated from the Michigan College of Mines with the degree of Engineer of Mines in 1923 and a BS in Mining in 1926. As a student, Fay participated in Blue Key, the Lode, and was a student assistant in the Civil, Mining and Metallurgy Departments.
After graduating in 1923, Fay was offered a teaching position by Dr. James Fisher, head of the Mathematics and Physics department. In the meantime, he was awarded a Master of Philosophy degree in Physics from the Univ. of Wisconsin at Madison in 1930. He served as instructor, assistant professor and professor of Mathematics and Physics at MCM&T from 1923 to 1944. He became Head of the Physics Department from 1944 to 1947, and was appointed Dean of the College of Engineering in July 1947. He also served as Director of Extension Activities. While Dean, Fay served as President for the Study Group on Engineering Education of the Michigan Council of State College Presidents. Fay was involved in the societies of Delta Sigma Phi, Phi Eta Sigma, and Tau Beta Pi.
Then, early in 1954, he was appointed President of the South Dakota School of Mines. He retired from the presidency in 1966 at age 65. He held the title of President Emeritus and Professor of Physics Emeritus, South Dakota School of Mines.
Fay was a member of the MTU Presidents Club and he served as Treasurer of the MTU Alumni Association. He was active in the AIME, and in Blue Key with an honorary society membership. He is listed in "Who's Who in American Education," and in "American Men of Science," and as a Tau Beta Pi Honorary Society Member.
Fay and his wife Helga are both deceased and are survived by their two children, daughter Ruth and son George.
From 1999 Induction to the Geological and Mining Engineering and Sciences Academy