Don J. Gendzwill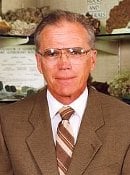 MS Applied Geophysics 1958
BS Engineering Physics 1957
During the 1950's, Don worked with the U.S. Bureau of Mines on a program of mine burst detection in the Copper Country. He then attended Michigan Tech where he was an early experimenter with the induced polarization method to detect disseminated metal ore deposits, earning his MS under Lloyal Bacon in 1958. After graduating, he went to work for Cominco Exploration. In the late 1960's, he attended the University of Saskatchewan where he received his Ph.D. in 1969. Since that time, he has worked at the University of Saskatchewan where he is currently a Professor of Geophysics and Geophysical Engineering.
Don has been a leader in the application of a variety of seismic methods for various mining applications from the surface below. He was the first to develop instrumentation, theory and computer software systems for the detection and evaluation of induced seismic activity in Saskatchewan Potash mines, including installing the first microcomputer based seismic monitoring system in any Canadian mine. He has also monitored seismic activity during hydrofracture and steam flood at a heavy oil field in Alberta.
Don received his BS in Engineering Physics in 1957 and his MS in Geophysics in 1958, both from Michigan Technological University.
From 1997 Induction to the Geological and Mining Engineering and Sciences Academy