David Maness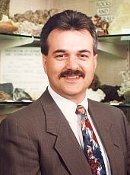 BS Applied Geophysics 1975
David Maness graduated from Tech in 1975 with a BS in applied geophysics. He went to work with Mobil Oil in Dallas, Houston and Calgary offices and became an exploration superintendent responsible for geological and geophysical interpretations of the Gulf of Mexico region.
In 1982 he joined L. Texas Petroleum where he became vice president of Exploration. During his stay there he developed the ~100 billion cubic feet Mostona Grande field and acquired a position in the 250BCF Berry R Cox Field. From 1986-1990 he was contracted to the predecessor of XCO Production Company in Houston where he was senior explorationist, and developed the company's exploration methodology using seismic lithology in the East Texas Woodbine Play.
In 1985 Dave co-founded Maness Petroleum Corporation and has since served as the company's president. Maness Petroleum is a company we know well, because it provides geological/geophysical interpretation services to oil and gas companies, and specializes in the Michigan Basin. Dave also serves as a director to Terrasciences in Houston, and has particular involvement in that company's line of geological software products.
Dave has brought his wife Mary and two of his children, Megan and Andy, to celebrate with him tonight.
From 1995 Induction to the Geological and Mining Engineering and Sciences Academy