D. Kelly Campbell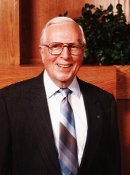 BS Mining 1939
BS Geology 1939
The Man Behind the US Hockey Hall of Fame
In the late 1930s, when D. Kelly Campbell was at Tech skating through a dual major in geology and mining engineering, one of the highlights of campus life was ice hockey at Dee Stadium. "That was the big social event," Campbell recalls. He never played but was a great fan. "Hockey is a fantastic sport," he says. "The physical side of the game is amazing—how players stand up to that."
He took that interest and led the way in establishing the US Hockey Hall of Fame Museum in Eveleth, Minnesota, which, Campbell says, is an ideal location, given the tough hockey tradition on the Iron Range. On just the high school level alone, hockey is to Minnesota what high school basketball is to Indiana and what high school football is to Texas.
Campbell started the museum initiative in 1967; it reached fruition in 1973. American hockey needed a place to recognize American-born players, coaches, builders, and administrators. Enshrined there are Tech's Ed Maki and Paul Coppo. Maki was goaltender from 1934 to 1937 and Tech's first All-American. Coppo, a Hancock native, was a standout player from 1956 to 1960.
From 1947 to 1963, Campbell worked for Cleveland-Cliffs Iron Co. in Ishpeming and watched the formation of what would become the National Ski Hall of Fame. When he became general manager of the Eveleth Taconite Company, where he worked for twenty years, he decided, "We can do something like that up here."
"We formed a group of civic people and hockey people to establish America's hockey shrine," he says.
"It was a rich experience," he adds. "But, like everything else, it was a struggle. You're looking for a buck all the time. Sometimes you wonder why in the world you're doing what you're doing." But he immersed himself in the work. "You can't do things halfway," he says. He still serves as a director and is recognized as a founder.
Campbell, from South Haven, Michigan, came to Michigan Tech with guidance from his father, who steered him to the mineral industry. He liked the ruggedness of the area, the small campus, and the closeness with professors. He lived on $40 a month. While at Tech, he joined Sigma Rho and made lasting friendships.
He says that one of the hallmarks of his Tech education was learning communication skills, which helped him achieve a good rapport with people in his career. He also learned flexibility. "You change as things change," he says. Accordingly, throughout his career, he enjoyed modernizing. He describes his work as "99 percent enjoyment and one percent sheer terror." The mineral industry, he allows, was a difficult business.
Campbell's strong faith also guides his life. "If you don't have strong religious ties and great faith—and a recognition of amazing things happening that you don't understand—you don't have much."
Prior to his career at Cleveland Cliffs, Campbell worked at the Tennessee Coal and Iron Co. in Alabama, then the North Range Mining Co. in Negaunee, Michigan. He ended his career at Oglebay Norton in Eveleth, retiring in 1983 as vice president of iron ore operations.
Campbell is active in the Society of Mining Engineers, and is a member of the Academy of Distinguished Mining Engineers. At Tech, he is a member of Academy of Mining Engineers, the Academy of Geological and Mining Engineers, and the Alumni Association. He has been awarded the Board of Trustees Silver Medal
He is 94 now. He says of his life's endeavors: "You reap the benefits and fruits of your efforts." He would like to be remembered as a guy you could depend on, who did a good job, and was ethical. He would want people to say, "I'm glad he was my friend."
From 1996 Induction to the Geological and Mining Engineering and Sciences Academy