Clyde D. Keith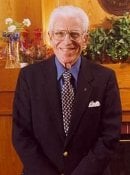 Clyde D. Keith, Jr. graduated in 1943 with a BS degree in Mining Engineering from the Michigan College of Mining and Technology. While a student, he was a member of the Varsity Ski Club, the Dorm Club, and AIME.
Clyde went to work for Pickands Mather & Company after graduation, and remained with the company until he retired. From 1943 to 1951, he was a mining engineer at the Biwabik Mine and the Mahoning Mine in Minnesota. In 1952, Clyde transferred to the Duluth office as a mining engineer for Pickands Mather & Co. After 10 years, he was transferred to Shawville, Quebec where he became superintendent of the Hilton Mines.
In 1965, Clyde returned to Minnesota as assistant general manager at Erie Mining Company, and was named general manager of the operation in 1970. During this time, he represented Pickands Mather in negotiations with the mineral industry in Saudi Arabia.
Clyde was promoted to vice president of Pickands Mather & Co. in 1986, and remained vice president until his retirement in 1987 after 43 years of service.
Clyde has been affiliated with the Engineers Club of Northern Minnesota, AIME, the American Red Cross and the Boy Scouts of America. In 1962, he received the Silver Beaver Award for his service to the Boy Scouts. Clyde served on the Board of Directors of Norwest Bank from 1970-1987, and he also served many years as President of the Hoyt Lakes, Minnesota Chapter of the Cancer Society. For 44 continuous years, Clyde has been active in the U.S. National Ski Patrol, and he is still skiing as an alumnus.
From 1998 Induction to the Geological and Mining Engineering and Sciences Academy