Charles Young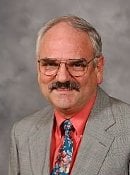 Chuck received his B.S. and M.S. degrees in Physics from San Diego State University, and his Ph.D. from the University of Wisconsin – Madison in 1977. He then spent three years on the faculty in the Department of Physics at New Mexico State University before coming to Michigan Tech in 1980. Chuck retired from active teaching in May 2006.
Chuck's technical interests lie in electromagnetic geophysical methods, geophysical signal analysis, and designing and constructing geophysical equipment. Early in his academic career Chuck obtained commercial geophysical equipment which allowed him to work with the magnetotelluric method of geophysical exploration, and later he obtained ground penetrating radar equipment. Some of Chuck's most recent collaborative work has been with MTU undergraduate students in the industrial archeology group, where they have been investigating such things as historic slave communities that have long been buried.
Chuck has spent time in the Peace Corps, and he continues to take advantage of opportunities to teach short courses all over the world.
From 2006 Induction to the Geological and Mining Engineering and Sciences Academy