Charles G. Tebelman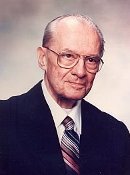 BS Mining 1938
BS Metallurgical Engineering 1938
Retired Assistant to Vice President of Administration, Bethlehem Steel Corporation
Charles Tebelman earned BS degrees in Mining Engineering and Metallurgical Engineering, with honors, from the Michigan College of Mining and Technology in 1938.
After graduation, he joined Bethlehem Steel Corporation as a candidate of their "Loop Course" management training program. In September, 1938, he was assigned as Foreman to the Bethlehem's Limestone Quarry in Bridgeport, PA. In 1947, he was offered the position of Mining Engineer in the office of the Vice President of Mining in Bethlehem, PA. After a series of promotions, he was appointed in 1963 to Assistant to the Vice President of Mining Administration. His duties included human resources management, safety, industrial relations, public affairs, capital expenditures, raw material supply to steel plants, and hiring management for foreign operations. During this period, he was also the primary operations liaison for a substantial manganese mine in Mexico. He served in this position until his retirement in 1979, after 41 years of service.
He is a member of the Presidents Club, AIME, and the American Iron and Steel Institute. He is active in various community capital fund drives with YMCA and St. Luke's Hospital. He served four years as Deacon, eleven years as Elder, and over 45 years as a financial officer of Christ Church United Church of Christ in Bethlehem, PA.
From 1996 Induction to the Geological and Mining Engineering and Sciences Academy