Charles L. Matson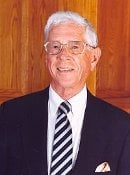 Retired General Manager of Purchasing & Traffic, Pickands Mather & Company; Mining Engineer, Zenith Mine, Ely, MN and Michigan District Office; Mining Captain; Manager of Purchasing, Cleveland, OH; Erie Mining Co.: Chief Industrial Engineer for several mine start-ups; Maintenance Planning Supervisor; Assistant Superintendent of Maintenance, and Supt. of Agglomerating; Plant Superintendent, Hibbing Taconite Co.; Served in the European Theater of Operations in WWII, awarded two battle stars; Member, Michigan Tech Alumni Board of Managers, AIME, Engineers Club of Northern Minnesota; Founder of the Industrial Engineering Society of Northern Minnesota; Recognized as Melvin Jones Fellow by the Lions International Foundation; President of Hoyt Lakes Library Board, Treasurer and President, Faith Lutheran Church, Hoyt Lakes, MN
Charles L. Matson earned his BS degree in Mining Engineering from the Michigan College of Mining and Technology in 1949. He is the son of Professor Robert C. Matson who taught in the Mining and Civil Engineering Departments from 1918 to 1950. Charles served in the European Theater of Operations in WWII in a Combat Engineers Battalion and was awarded two battle stars.
After his military service and college graduation, Charles was employed by Pickands Mather & Co. as a Mining Engineer at the Zenith Mine in Ely, MN and at the Michigan District Office. He was then promoted and served as Mining Captain from 1956-58. He participated in several mine start-ups as Chief Industrial Engineer for Erie Mining Co. from 1956-64. Charles held several management positions at Erie from 1964-74 which included Maintenance Planning Supervisor, Assistant Superintendent of Maintenance, and Supt. of Agglomerating. He was Plant Superintendent at Hibbing Taconite Co., 1974-79, and Manager of Purchasing, Pickands Mather & Co., Cleveland, OH, 1979-82. As General Manager of Purchasing and Traffic, he was responsible for the purchasing function for all Pickands Mather properties and supervised the sale of the Milwaukee Solvay Coke Co. in WI. He retired in 1984.
Charles served on the Michigan Tech Alumni Board of Managers from 1972-78. He is a member of AIME, the Engineers Club of Northern Minnesota, and is founder of the Industrial Engineering Society of Northern Minnesota.
His Charles has also worked in community service includes President of Hoyt Lakes Library Board, Treasurer, and President of Faith Lutheran Church, Hoyt Lakes, MN. He was recognized as Melvin Jones Fellow by the Lions International Foundation in 1996.
From 1999 Induction to the Geological and Mining Engineering and Sciences Academy