Charles S. Knobloch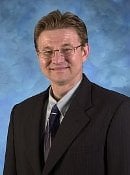 BS Applied Geophysics 1980
Graduating from Michigan Tech with the first "Faculty Citation" and a B.S. in Geophysics in 1980, Charles went on to spend 22 years in the oil and gas business with Conoco-DuPont, where he was awarded for advancements he made in imaging technology. He completed a law degree at the University of Houston and holds a diploma in International Law (Russia) from the University of San Diego. He has also studied European Law in Spain through the College of William and Mary.
With these combined interests (petroleum & law), Charles now maintains a private intellectual property law practice, assisting corporations in development of intellectual property positions and commercialization strategy. He provides consultation to institutional investors, corporations, and joint ventures, and trains managers in technology commercialization through his "Lost Secrets of Edison" program, through which planned ventures may be certified to mitigate venture risk. He is currently associated with a number of commercialization ventures.
Charles is a late-stage survivor of cancer, which he contracted 13 years ago, at the age of 32. He is the former Chair of the M.D. Anderson Cancer Center network with 70,000 members, back when they knew of Lance Armstrong as the young patient who was an avid cyclist!
From 2004 Induction to the Geological and Mining Engineering and Sciences Academy