Catherine Dummer McRae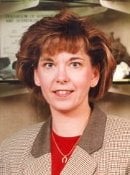 BS Geological Engineering 1983
Cathy began her career at Shell Oil Company in the Michigan Basin Development Engineering - Production Department. One of her many duties included qualifying as an expert geological engineering witness at a proration hearing which lasted over two years. Cathy then joined the South Texas Development Engineering - Production Department as Process Manager for on-shore well drilling and planning, and is a member of the Property Acquisition Evaluation Team. While in this position, she made recommendations for well development, coordinated budgets for development engineering, led two Field Asset Management Teams, and authored and presented several papers.
In 1996, Cathy became Technical Manager of Shell Offshore, Inc. in New Orleans and is responsible for offshore drilling prospects. Cathy has been a volunteer with the Gulf Coast Alliance for Minorities in Engineering helping students complete science projects for school science fairs and talking to classes about careers in engineering. She coached teams of middle school children at Engineering Olympics and judged science projects at local high school science fairs. Cathy enjoys horseback riding and serves as president of the Greater Houston Hunter/Jumper Association.
Cathy received her BS degree from Michigan Technological University in Geological Engineering in 1983 with high honor.
From 1996 Induction to the Geological and Mining Engineering and Sciences Academy