Carl Schwenk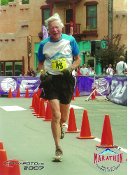 BS Geological Engineering 1962
BS Geophysical Engineering 1965
Carl Schwenk has sought buried treasure throughout the Western Hemisphere, and everywhere he's been, he brought his running shoes.
Schwenk, now retired, is the geophysicist who pinpointed what would become the Flambeau Mine, near Ladysmith, Wisconsin. In 1971, a few years after he located this high-grade deposit of copper and gold, he also stumbled upon a book that would change his life: Kenneth Cooper's Aerobics. "It's the best investment I ever made," says Schwenk. "Some call Cooper the father of the first running boom."
Within a few years, he had completed his first marathon, the Paavo Nurmi, in Hurley, Wisconsin, and he's never looked back. Schwenk, now 76, still exalts in running and is a fierce competitor. At the Pikes Peak Marathon, he owns nine consecutive age-group wins and, for ages 68 and 69, set course records. He still tackles 14-mile training runs near his Ridgway, Colorado, home, which sometimes include a climb over the 10,000-foot Owl Creek pass in the Cimmaron Range.
Running is a hobby that travels well, a good thing for a modern-day prospector. Schwenk set his sights on mineral exploration at an early age, when he read a Life magazine article on the search for uranium on the Colorado Plateau. "I thought, what a neat way of making a living, flying around in a helicopter armed with scintillation counters," he recalls. He enrolled in another college but did not thrive in what was a somewhat classical approach to geology. Then he transferred to Michigan Tech.
The first person he met in the geology department was secretary Marion Hoyt. "She ran the department with an iron fist," Schwenk remembers. Hoyt introduced him to faculty members Kiril Spiroff and Alfred Snelgrove, and soon he was a geological engineering major. "I loved it up there," he said. "That was the beginning of my Tech journey."
After graduating in 1962, he went to work in the oil industry but still had a yen to do hard-rock exploration. So, he returned to Tech to complete a second degree, this time in geophysical engineering. His mentor was Lloyal Bacon, who led the geophysics program and gave him what he really wanted: hands-on projects. "My most enjoyable time in Houghton was my last quarter, when I was working underground at the Champion Mine," Schwenk said.
After his second graduation, in 1965, he signed on with Kennecott Copper. "I traveled all over the USA working on their properties as a geophysicist," he said.
One trip was to Rusk County, Wisconsin, which was of regional interest because of a 1915 USGS report describing three Precambrian exposures and the presence of copper oxide. "We expanded the target area by surveying 220 square miles with airborne techniques, followed by a ground geophysical evalution of selected areas. The result was the definition of a fabulous target, designated Zone 22, which was to become Flambeau," said Schwenk. "It's typical to spend your entire career looking for metal and rarely make an economic discovery, but I had the great fortune to be involved in a prospect that became a mine."
Eventually, Schwenk left Kennecott to explore for base metals in Brazil with mega-iron company Vale do Rio Doce. "After that, I felt comfortable in a variety of environments. It was a great experience," he said. From there, he worked principally in Alaska and the Great Lakes, and also did a stint in Australia. At one point, he even worked as an environmental consultant. "I looked for toxic waste instead of buried treasure," Schwenk says. "It wasn't as much fun."
That said, Schwenk looks back upon a career he loved, which is one reason he has provided for the University in his estate plans. "I made an investment in Apple Inc. early in their corporate life, and it has appreciated in value," he said. Eventually, he hopes his gift will be used to establish an endowed professorship in applied geophysics. "Michigan Tech provided me with the tools I needed, and now it's payback time."
This profile appeared in the Fall 2013 Foresight newsletter