Bernard J. Guarnera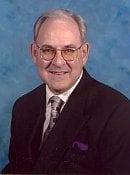 MS Geology 1967
BS Geological Engineering 1964
Since 1994 Barney Guarnera has served as President, Chief Executive Officer, and Chief Operating Officer of Behre Dolbear and Company, Inc., one of the premier mining consulting companies. He has been responsible for developing the company into a multi-officed, multi-million dollar growing enterprise. His personal expertise is in the areas of evaluation and valuation of mineral properties, ore reserve estimation procedures, design and evaluation of exploration programs for precious and base metals, coal/lignite, uranium, and industrial minerals, as well as the negotiation and terms of mineral agreements.
Just prior to joining Behre Dolbear, he was Manager of Mineral and Hydro Resources for Boise Cascade Corporation. Early in his career he held positions with Quebec Cartier Iron Mining Company, Anaconda American Brass, Ltd., AMAX Exploration Inc., Texaco, Inc., and Dames and Moore. He is a Registered Professional Engineer, Registered Professional Geologist and Certified Mineral Appraiser. Barney is the past President of the International Mineral Professionals Society and is a Councilor with the Mining and Metallurgical Society of America.
Barney graduated from Michigan Tech with a B.S. in Geological Engineering in 1964 and an M.S. in Geology in 1967.
From 2001 Induction to the Geological and Mining Engineering and Sciences Academy