Robert F. Anderson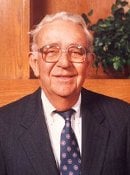 Honorary PhD Engineering 1978
BS Mining 1946
Retired President and Chief Operating Officer, Hanna Mining Company
Chairman and Chief Operating Officer, Iron Ore Company of Canada
Robert Anderson earned a BS in Mining Engineering from Michigan Tech and received an Honorary Doctorate of Engineering in 1978. He also holds an Honorary Doctorate of Laws from St. Francis Xavier University.
He began his career with Hanna in 1947 and held many positions before his promotion in 1978 to President and CEO. Anderson served during World War II as 1st Lieutenant in the Army Air Force.
He received the Michigan Tech Board of Trustees Silver Medal in 1971. He is a member of the Michigan Tech Presidents Club and served as a Trustee of the Michigan Tech Fund. He and his wife are members of the Second Century Society. Anderson is a member of AISI, AIME, AIOA, AMC; and Council of Americas. He is a trustee of Fairview General Hospital, Ohio; Director, Midland S.W. Corp., Texas; Director, Soc. Corp., Ohio; Director, Society National Bank, Ohio; Director, Norcen Energy Resources, Toronto; Officer and Director, Hanna Mining Co., Ohio. He is very active in various civic and service organizations.
From 1995 Induction to the Geological and Mining Engineering and Sciences Academy