Abe W. Mathews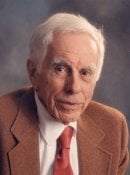 MS Mining 1941
BS Mining 1940
Retired Chairman and Chief Executive Officer, Abe W. Mathews Engineering Co.
Abe Mathews earned a BS in Mining Engineering in 1940 and an MS in Mining Engineering in 1941 from the Michigan College of Mining and Technology. He is a registered professional engineer in Minnesota.
After graduation, he worked as a mining engineer for Bethlehem Steel Corp. before serving as an officer in the U.S. Navy from 1942-46. Afterward, he worked for the Erie Mining Co. in Hibbing, MN as a research and plant design engineer and then, from 1948-49, as design engineer for the Western Knapp Engineering Co. In 1949, he was employed as a design and construction engineer for the Interstate Iron Company in Virginia, MN. He returned to the Western Knapp Engineering Company in 1951, serving as Chief Engineer until founding his own company. From 1952 until his retirement in 1980, Abe was Chairman and CEO of the Abe W. Mathews Engineering Co. of Hibbing, MN. He was also President of A.W. Mathews of Canada, Ltd. and founder of Northern Mining Equipment Co. He served on the Board of Directors of Minnesota Power & Light Co. and Merchants and Miners State Bank of Hibbing, MN.
Abe is a member of the Presidents Club, Century II Campaign, Alumni Association Board of Directors and is a Michigan Tech Fund Life Trustee. He was awarded the Board of Trustees Silver Medal in 1970. Abe was involved with numerous civic and community activities including his work with the Headwaters Area Council of the Boy Scouts of America, which earned him the Silver Beaver Award. He is a member of AIME, IEEE, National Society of Professional Engineers, The Instrument Society of America, and Prospectors and Developers Association of Canada.
From 1996 Induction to the Geological and Mining Engineering and Sciences Academy