Anthony (Tony) Pinar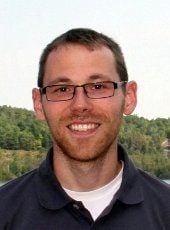 Lecturer, Electrical and Computer Engineering
Senior Design Coordinator, Electrical and Computer Engineering
Research Engineer, Advanced Power Systems Research Center
PhD, Electrical Engineering, Michigan Technological University
MS, Electrical Engineering, Michigan Technological University
BS, Electrical Engineering, Michigan Technological University
Biography
Tony earned his BS, MS, and PhD in Electrical Engineering from Michigan Tech in 2011, 2014, and 2017, respectively, and his research spans topics such as machine learning, pattern recognition, and information fusion. Tony's recent projects include explosive hazard detection using ground penetrating radar, decision-level fusion using the fuzzy Choquet integral, and the design and development of an electrical system for an autonomous underwater glider known as the Research Oriented Underwater Glider for Hands-on Investigative Engineering (ROUGHIE). Before his graduate studies Tony was an electrical design engineer at GE Aviation where he designed test equipment for various avionic systems. Since his time in industry he has continued working on engineering problems as an independent consultant for various companies.
Areas of Interest
Machine Learning
Signal and Image Processing
Data Fusion
Electronics
Recent Publications
S. Ziaeefard, B. Page, A. J. Pinar, and N. Mahmoudian, "Effective Turning Motion Control of Internally Actuated Autonomous Underwater Vehicles," Journal of Intelligent & Robotic Systems, 2017.
A.J. Pinar, D.T. Anderson, T.C. Havens, A. Zare, and T. Adeyeba, "Measures of the Shapley Index for Learning Lower Complexity Fuzzy Integrals," Springer Granular Computing, 2017.
A. J. Pinar, T. C. Havens, M. A. Islam, D. T. Anderson, "Visualization and Learning of the Choquet Integral with Limited Training Data," Proc. IEEE International Conference on Fuzzy Systems (FUZZ-IEEE), 2017.
A. J. Pinar, J. Rice, L. Hu, D. T. Anderson, T. C. Havens, "Efficient Multiple Kernel Classification using Feature and Decision Level Fusion," IEEE Transactions on Fuzzy Systems, 2016.
A. J. Pinar, J. Rice, T. C. Havens, M. Masarik, J. Burns, and D. T. Anderson, "Explosive hazard detection with feature and decision level fusion, multiple kernel learning, and fuzzy integrals," Proc. IEEE Symposium Series on Computational Intelligence (SSCI), 2016.
B. R. Page, S. Ziaeefard, A. J. Pinar, and N. Mahmoudian, "Highly Maneuverable Low-Cost Underwater Glider: Design and Development," IEEE Robotics and Automation Letters, 2016.
A. J. Pinar, T. C. Havens, J. Rice, M. Masarik, J. Burns, and B. Thelen, "A comparison of robust principal component analysis techniques for buried object detection in downward looking GPR sensor data," Proc. SPIE 9823, 2016.
S. Ziaeefard, B. R. Page, A. J. Pinar, and N. Mahmoudian, "A Novel Roll Mechanism to Increase Maneuverability of Autonomous Underwater Vehicles in Shallow Water," Proc. MTS/IEEE Oceans Monterey, 2016.