Martha E. Sloan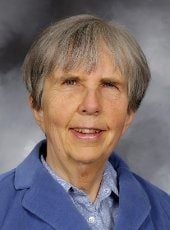 Contact
Professor Emerita, Electrical and Computer Engineering
PhD, Education, Stanford University
MS, Education, University of Southern California
MS, Electrical Engineering, Stanford University
Biography
Martha Sloan received a BS in Electrical Engineering with great distinction, an MS in Electrical Engineering, and a PhD in Education from Stanford University. After two years of working at Lockheed Missiles and Space Company, in Palo Alto, California, Sloan joined the faculty of Michigan Tech, where she is now a professor of electrical and computer engineering and associate chair of the Department of Electrical and Computer Engineering.
Sloan is the author of three textbooks and more than sixty papers. She is a fellow of the ACM, the IEEE, and SWE and has received numerous awards, including the SWE Distinguished Engineering Educator Award, an IEEE Centennial Medal, the Richard E. Merwin Award, and the ASEE Outstanding Young Electrical Engineering Educator Award.
She has been active in engineering professional societies, having served as treasurer, vice president, and president of the IEEE Computer Society, IEEE, and AAES. She served for nine years on the board of trustees of SWE.
Links of Interest
Areas of Interest
Computer security
Computer networks