Cynthia S. Anderson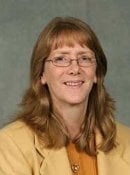 BS Electrical Engineering 1985
MS 0
Cindy Anderson graduated from Michigan Tech in 1984 with a bachelor's degree in electrical engineering. She later received a MS in Engineering Management in 1988 from Santa Clara University.
In 1992, she joined Cornerstone Imaging in San Jose, Calif., and became the vice president of quality and information systems, steering the company through its growth from $14 million to $100 million in revenues and from a small start-up to an IPO. Several years following the successful IPO, she left Cornerstone to join the software company Actionpoint, also in San Jose, as the vice president of operations. Meanwhile, she co-founded BigCeramicStore.com, a successful internet retailer of ceramic supplies for artists. She is currently the president of that company, which includes a 500-plus page website.
She received the IBM Achievement Award in 1988 and the IBM Tandem Achievement Award in 1991 and was also on the IBM Fast Track Program. She was the founder and chairman of the IEEE Society on Social Implications of Technology between 1989 and 1992. In 1996, she was the California "Eureka" Quality Award Examiner, and in 1999, she received Michigan Tech's Outstanding Young Alumni Award.
From 2007 Induction to the Department of Electrical Engineering Academy