Bridges, roads, buildings, railways, distribution systems, canals, dams, even lighthouses. Yes, lighthouses. If you encountered any of these structures today, or stopped to marvel at one on a recent road trip, you can thank the dedication, fortitude, and ingenuity of a civil engineer. These are just a few of the structures that civil engineers have had a hand in designing, evaluating, executing, and maintaining. They demonstrate why civil engineering is important.
What is Civil Engineering About?
Civil engineers are crucial to the sustainable construction, function, and safety of our natural and built environments. Their work, their mark, is everywhere.
The job of a civil engineer, often known as the people's engineer, is one of the oldest in the world. The first formal civil engineering school started in 18th century France. But the roots of the professional discipline and civil engineering work run deep, all the way back to ancient times, when Roman engineers revolutionized building materials, tools, and techniques; and planned, designed, and constructed aqueducts, baths, bridges, and roads. Fast forward to the dedicated civil engineers who constructed the 18th century canals and the 19th century railways, which opened up transportation routes that drove the Industrial Revolution.
Just like the work of their innovative predecessors, modern-day civil engineering jobs involve improving the health, safety, mobility, and prosperity of many people. From ancient times until today, civil engineers have made regional, national, and global impacts.
What Do Civil Engineers Do?
Regardless of their branch, civil engineering jobs focus on the sustainable design and construction of infrastructure and buildings: planning, designing, solving problems, consulting, building, testing, and researching. Multi-skilled civil engineers often work in a variety of locations and conditions, from offices to natural environments to various work sites.
Versatile and creative, civil engineers are found in the many branches of their discipline, taking on diverse projects.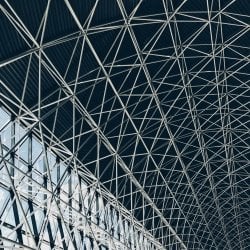 Construction Engineering
People often wonder about civil engineering vs. construction. Well, the short answer is that construction is a sub-branch of civil engineering. Construction engineers are involved in all three phases of the building process: pre-construction, construction, and post-construction. Working with private, public, or government clients, they may perform feasibility studies, conduct extensive site investigations, create designs, collaborate with contractors, and complete maintenance and research.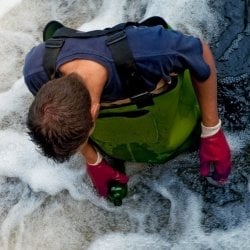 Environmental Engineering
Environmental engineers research, assess, and design projects to reduce their environmental impacts, such as threats to native or endangered species; negative effects on air, water, and soil quality; and the consequences of noise pollution. Coordinating with local, state, and federal agencies, they conduct environmental evaluations; assess wetlands and streams; design mitigation plans; design and plan plan water, air, and solid waste treatment systems; and present project implementation options. Environmental engineers often work as consultants.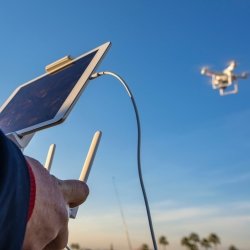 Geospatial Engineering
Geospatial engineers implement modern mapping technologies (GIS and GPS), visualization, and use land surveying tools to collect, and analyze geographic data in order to create 2D or 3D maps—building sites, national parks, or other locations of interest. They might locate archeological sites, assess areas for civil engineering projects (dams or bridges), and evaluate locations for military operations.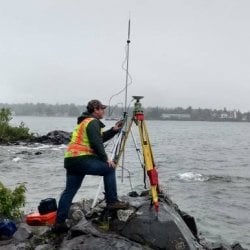 Geotechnical Engineering
Geotechnical Engineers analyze soil and rock mechanics to design foundations crucial to civil engineering infrastructure. They also examine water and soil interactions that could cause landslides, sinkholes, and rockfalls. Sampling soil, designing pavement structures, restoring historical monuments, assessing natural slopes, and suggesting safe construction techniques are some of their potential projects.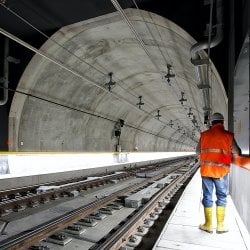 Structural Engineering
Structural engineers analyze and design safe, load-bearing structures that can withstand significant stress, force, adverse environmental conditions, and natural disasters, such as earthquakes, floods, and extreme weather events. They design bridges, tunnels, overpasses, and buildings/facilities, whether they are skyscrapers, schools, stadiums, or wastewater plants. The designs of structural engineers are heavily influenced by required building materials, such as steel, concrete, and timber.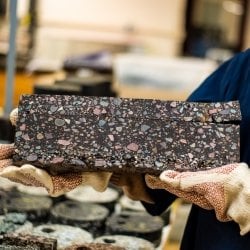 Transportation Engineering
Transportation engineers get us moving efficiently and safely; they design, construct, and manage various mobility projects, large and small, such as pedestrian paths, highways, intersections, airports, traffic plans, waterways, and railways. They ensure these structures and projects are efficient, cost-effective, safe, and environmentally sound. Transportation engineering also considers building material, such as the incorporation of recycled and reclaimed material (glass and scrap tires, for instance) into concrete and asphalt.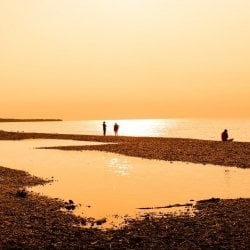 Water Resource Engineering
Water resource engineers analyze and implement techniques, facilities, and equipment that are related to water, such as irrigation, canal construction, and wastewater management. The address floods, rising sea levels, droughts, and water use. Planning/creating artificial lakes and ponds, designing rain gardens and bioswales, and creating other green infrastructure are just a few of their projects.
All of these areas grew out of civil engineering. As time passed and the knowledge began to diverge then new disciplines were formed. And this is just a short list of the tasks that demonstrate why civil engineering is important. Civil engineers diligently labor, often without fanfare, to improve our lives and our natural and built worlds.
What Can You Do With a Civil Engineering Degree?
A lot. Infrastructure and buildings and transportation facilities aren't going anywhere. Neither is water. And neither are civil engineers.
Many often ask if civil engineering is a good career choice. Overall, it is both a promising and very stable profession. In the US, there were 309,800 jobs in 2020 whereas positions are expected to grow by 8% by 2030. Between 2020 and 2030, the US Bureau of Labor and Statistics projects about 25,300 new annual openings, which are from current engineers retiring and additional opportunities arising.
Fast Fact: On LinkedIn, a recent search for civil engineering jobs in the United States resulted in over 34,000 results. Of these, there were over 1,000 remote career opportunities.
Are civil engineers in-demand? Yes, they are. And in many organizations. Working in the office, in the field, or moving between locations, they may collaborate with industry, government, contractors, and private clients.
According to their specialty, their workplace, and the needs of various civil engineering companies, they may take on several roles:
Civil Application Engineer
Civil Engineer (US Army Corps)
Construction Manager
Engineering Technician
Environmental Engineer
Forensic Engineer
Infrastructure Design Engineer
Land Development Engineer
Planning Engineer
Project Engineer
Roadway Design Engineer
Stormwater Engineer
Structural Substation Design Engineer
Water Resources Engineer
How Much Do Civil Engineers Earn?
Civil engineers get paid well for their expertise. According to the Occupational Outlook from the Bureau of Labor Statistics, the mean civil engineering salary, which includes both entry level and senior engineers, is $97,380.
To put that number in perspective, the median salary for all US occupations is only $45,070. Civil engineers, then, get paid significantly more than the national average.
Here are some median salaries for selected civil engineering jobs:
Some of the major US-based civil engineering companies include AECOM, Bechtel, Fluor, Kiewit, Jacobs, HNTB, and Burns and McDonnell. Numerous small organizations hire civil engineers, some in rural areas as well.
Is Civil Engineering Hard?
Civil engineering is a challenging but rewarding field. Those who choose it require several both hard and soft skills. Most civil engineering jobs involve knowledge and practical application of engineering basics, mathematics, and science. According to their focus, civil engineers might also have specialized skills in several areas, such as GIS, hydrologic modeling, hydraulics, and soil sampling.
Beyond this foundational knowledge and expertise, civil engineers also have versatile soft skills that help them tackle complex problems, collaborate with others, meet tight deadlines, and lead projects:
Attention to detail
Critical and creative thinking
Written and oral communication
Organizational skills
Delegation and Leadership
Project management
Time management
Teamwork
Budget management
Decision making
Networking
IT Skills
The work of civil engineering is important. The challenges, vast. The opportunities, endless.
Civil engineers with a bachelor's degree often earn other credentials or pursue advanced degrees, such as an online certificate or an MS, to concentrate on their interests and to hone their specialized skills.
What is the Future of Civil Engineering?
The future of the civil engineer, the people's engineer, looks bright. Promise lies in the steady job growth and the need for skilled civil engineers to design creative, sustainable solutions for regional, national, and global problems.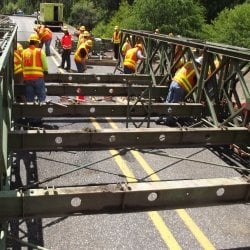 Contending with Deteriorating Infrastructure
According to the American Society of Civil Engineering's (ASCE) 2021 Report Card for America's Infrastructure, the overall American infrastructure grade is C-. This grade, which marks the first time (in two decades) that the US has left the D range, is ‌due to the dedication and work of civil engineers. But this grade is still not good enough: implementing the five-year $1.2 trillion Bipartisan Infrastructure Law promises to be a monumental task involving various levels of government, contractors, planners, and engineers.
Civil engineers, then, are in demand to sustainably design, improve, fix, and maintain the infrastructure central to American transportation (aviation, roads, bridges, dams, inland waterways, rail system, ports); and to improve health and safety (drinking water, hazardous wastes, storm-water, wastewater, and air pollution) for US citizens.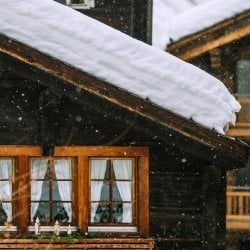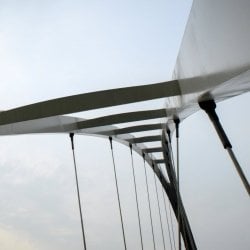 Building a Better World
Other complex projects include designing sustainable communities, planning for future transportation needs, considering ethics and equity in engineering responses to climate change, and balancing sustainability and profits.
In fact, the American Society of Civil Engineers (ASCE), sees civil engineers as crucial to realizing experimental design and reimagining infrastructure to create future built environments. ASCE's Future World Vision project maintains that the specialized knowledge of current engineers--construction and architecture, buildings and materials, and energy and utilities--is needed to translate visions into reality.
Civil engineers, known for their intelligence, innovation, and grit, are skilled and suited to take on the previous challenges and many, many more.
---
Why Choose Civil Engineering at Michigan Technological University?
Michigan Technological University is renowned for its STEM education, its College of Engineering, and its innovative research. It also offers several pathways for aspiring civil engineers.
To start, the Department of Civil, Environmental, and Geospatial Engineering (CEGE) offers an undergraduate degree in Civil Engineering (BS). Michigan Tech's CEGE department also offers undergraduate degrees in construction management, environmental engineering, and geospatial engineering.
At Michigan Tech, students go deep and get their hands dirty and their feet wet at our state-of-the-art research facilities. In their capstone project, students put their learning, ingenuity, and teamwork to the test by participating in a major design experience.
Graduates may also go beyond their BS by earning an advanced degree in a specialty of their choice. From on-campus to online, from certificate to MS to PhD degrees, from individual credits to stackable certificates, there is an advanced civil engineering pathway for everyone.
Several online certificates and degrees may be earned through the Michigan Tech Global Campus.
Five Online Structural Engineering Certificates
And it's never too late to go back to school, either. Read about how Hoss Yaqoub, who had over two decades of international engineering experience, earned his online structural engineering degree.
At Michigan Tech, our engineering programs are respected across the state, the nation, and the world. For instance, Study International ranked Michigan Tech as one of the top US universities who has invested significant time and resources in addressing critical social justice issues and engineering a sustainable future; this organization has also praised our adaptable and versatile CEGE programs.
The Department of Civil, Environmental, and Geospatial Engineering is home to many creative, future-forward thinkers, who aren't just designing fast fixes, but creating plans and long-term solutions for regional, national, and global problems.
Two of our department's most prestigious alumni, Amy Trahey (1995) and Kim Nowack (1985), have significant experience in designing, constructing, and inspecting Michigan's bridges, especially the Mighty Mac. They each focus on bridge infrastructure and safety (both above and below the water). Other acclaimed faculty, such as Dr. Amlan Mukherjee, recognize that ethical, responsible engineers must design with resilience and sustainability in mind; they must consider how Net-Zero both affects and informs civil engineering practice and ethics. The world is almost drowning in garbage, so one crucial civil engineering mission is creatively re-using our waste. On the front lines is distinguished professor Zhanping You and his cutting-edge research of designing road materials from recycled tires.
Follow the Department of Civil, Environmental, and Geospatial Engineering on Facebook and Instagram to learn more about who we are and what we do.
Why Choose Michigan Technological University?
In all our degree programs, Michigan Tech helps create adaptable, creative, talented engineers who are geared towards the future. Our university is proud to mold civil engineers who can make a global impact and who have the training, skills, and expertise for what tomorrow needs. You could be one of them.