Robert Wojcik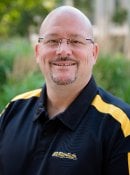 BS Electrical Engineering 1991
Why did you choose Michigan Tech?
I was looking for a small school with a great reputation to study electrical engineering and Michigan Tech was the best fit!
Tell us about a memorable experience you had with a class or about a favorite professor?
Dr. Warren Perger in my Antenna Theory and Design class. We were to design, build, and test an antenna for a specific frequency. Much to our surprise, Dr. Perger announced that my team had one of the best antenna array patterns he's ever seen. This was a very theoretical class and it gave me and my cohort a great sense of accomplishment!
Now, how about a memorable experience outside of class?
At the Mr. MTU contest that one of the sororities hosted for charity, while my fraternity brother was on stage performing his talent act, I walked across the stage dressed as the Energizer Bunny to disrupt his act. The entire audience burst into laughter (and tears!).
How well did Michigan Tech prepare you for your career?
Tech gave me a great sense of pride and tenacity. At Tech, we worked hard, played hard, and the rewards were great.
What was your first job after graduation and how has your career progressed?
My first and only job out of Michigan Tech was working for Cellular One, SBC, Cingular, now known as AT&T. I've been here nearly 24 years, having spent my entire career in wireless network engineering. I've done everything from software regression testing, new feature testing and development, equipment engineering, project management, and most recently Director of Wireless Network Operations.
Why did you choose to become a member of the Board of Directors?
I've always participated on the alumni level at Sigma Tau Gamma fraternity since graduating in 1991. This was a natural progression to help the university build a better link to our alumni.
Tell us about a few of your career highlights and notable achievements?
I managed the development of several adjunct platforms, including automated directory assistance connection and the first prepay platform for wireless. I was responsible for many of the area code planning and number splits in the 1990's, when wireless device use exploded. I've managed people for 15+ years and the greatest accomplishment I've experienced is helping to mentor several of these engineers and get them promoted to my level as area managers.
What advice on being successful would you give to Tech students and young alumni?
I've had seven jobs at AT&T. Be diverse in your career and bounce around about every four years. If your company is large (like AT&T) you can do this internally, but you need to keep learning to remain relevant and the best way I've found to do this is by moving into a new opportunity periodically.
Would you share your philosophy of life?
Life is too short. Simply have fun and enjoy it. Don't get caught up in all the little things!
Provided by Robert Wojcik, October 3, 2016.