Nancy Wizner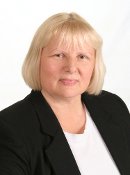 Nancy came to Michigan Tech after receiving an associates degree from Delta Community College in Saginaw, Michigan. She graduated from Mich Tech in 1977 with a bachelors degree in Forestry. Later, she received her masters degree in Fire and Emergency Management from Oklahoma State University in 2002.
She began her federal career in southeastern Alaska where she was employed as a Forestry Technician surveying logging roads in the Tongass National Forest. Her interests in conservation and protection brought her to the National Park Service in 1979. Throughout her career with the National Park System, Nancy worked as an emergency medical technician, wild land firefighter, search and rescue team member, interpretive ranger, communications center supervisor, program manager, incident commander, critical incident stress peer counselor, and as a federal law enforcement officer.
Her law enforcement experience began as a field ranger with daily road, foot, and boat patrols; she was subsequently promoted to Chief Ranger responsible for management of protection operations. In 2007, Nancy moved to Redwood National and State Parks where she is Chief Ranger. In this position, she is working daily in partnership with California State Parks.
Nancy's career with the National Park Service has included the following areas: Carlsbad Caverns National Park, Capulin Volcano National Monument, and White Sands National Monument in New Mexico; Indiana Dunes National Lakeshore in Indiana, Haleakala National Park and U.S.S. Arizona Memorial in Hawaii; Santa Monica Mountains National Recreation Area, Death Valley National Park and Redwood National and State Parks in California.
Nancy was a member of the National Interagency All Risk Management Team that provided support for the following incidents: Oso Fire, New Mexico, Hurricane Georges, Florida, Chino Wells Flood, New Mexico, Presidential Visit by President Clinton and his family to Grand Teton National Park, Wyoming; the 50th Commemoration of the Attack on Pearl Harbor, U.S.S. Arizona Memorial, Oahu, Hawaii; and Hurricane Katrina, Louisiana. She also had the opportunity to attend the International Ranger Federation World Congress in Stirling, Scotland in 2006.
When she transferred to various parks, she realized the importance of a good education to be prepared for various challenges. As she reflects on her experiences at Mich Tech, Nancy recalls how she was challenged with high academic standards, and was provided opportunities to succeed, as well as to fail and to learn from those failures. Her professional and personal life has benefited both from her Mich Tech education, which created an environment for her to learn the art of risk taking that in turn provided the foundation for her diverse and rewarding career.