Brandon Williams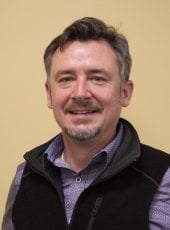 BS Electrical Engineering 2000
Brandon Williams graduated from Michigan Tech in 2000 with his Bachelor's Degree in Electrical Engineering. While being accepted into several universities, Michigan Tech's unique combination of strong engineering academics, low student-to-faculty ratio, tight-knit student community, and beautiful setting attracted Brandon during his campus visit and it became clear that Michigan Tech was right for him.
Following graduation, Brandon worked as a systems engineer at Motorola. Surrounded by coworkers from other top universities, Brandon quickly realized his skills in communication system design and electromagnetics set him apart from others. After three years in the role, Brandon received a divisional Engineer of the Year award, an acknowledgment that wouldn't have happened without Michigan Tech as a launchpad.
Over time, Brandon realized two things: he was good at engaging customers and he wanted to play a bigger role in managing the company. He transitioned into a sales role and earned his MBA from Northwestern University in 2007. He continued to move up, eventually running one of the company's largest metropolitan regions. After a decade or so at Motorola, Brandon accepted a position with the Broad Residency which takes private sector leaders and places them in educational organizations to bring best practices to the education sector. He spent several years as the director of performance data and accountability for the Illinois State Board of Education where he led big data initiatives that directed personalized learning resources to students and revamped the state school report card. Later, he returned to the tech world where he built new sales and distribution programs and teams at Panasonic. Today, Brandon runs global sales for a rapidly growing company that focuses on communication systems for mission-critical customers.
Brandon notes that one of his biggest career highlights was being accepted to join the Broad Residency as it was an opportunity based on his leadership skills—not his engineering background—which he developed after having a successful career launch from Michigan Tech. Since returning to the private sector, Brandon has been recognized as a CRN Channel Chief four times.
In addition to recalling many engineering courses with professors Dr. Ashok Ambardar and Dr. Jon Soper, Brandon shared a memory from a course that gave him the greatest appreciation and affinity for the land in which he was living: The History of the Copper Country with Dr. Larry Lankton.
"While my friends and I had already become well-entrenched in the tradition of Copper Country Cruising—spending weekends exploring the woods and lakes, finding new camping spots, getting old Honda Civics stuck on logging trails, and searching out the Northern Lights—Dr. Lankton had us researching and exploring for mines, the remains of once-flourishing towns, and gravesites. His class provided an entirely new historical context for the land we were exploring and shared the experience of the first European settlers in the area."
Outside of class, Brandon joined the jazz program and had the opportunity to play in Tech's jazz big bands as well as a funk combo spin-off, Salsa Norte, and the ECHOES from Heaven gospel choir led by the late professor Inetta Harris. "One spring, ECHOES was invited to California for a spring break mini-tour," Brandon shared. "Being from northern Michigan, our groups and our music were totally unexpected by the audiences in California and the gigs were a huge success, making this one of the greatest experiences many of us had in our time at Tech."
Brandon encourages current students to "avoid your comfort zone and never stop challenging yourself."
"If you think you have the potential to do something bigger, go for it. I am a firm believer that very few people reach the end of their careers and regret the things they didn't do. Gone are the days when you sign up for one career at 22 and do it until you retire. Explore your creativity, and push yourself. Take chances. Embrace the potential for failure! I acknowledge this advice sounds cliche, but as someone well into their post-MTU career, I promise you I've forgotten about many of my successes over the years but still recall the failures because that is where I've learned, grown, and become stronger. As a Michigan Tech grad, never underestimate what you are capable of."
Brandon is an active member of the Michigan Tech Alumni Board of Directors where he aims to help a broader range of students become Huskies and help them connect with one of Tech's greatest assets—its alumni community.
Updated September 2022