Jaylyn Williams-Boone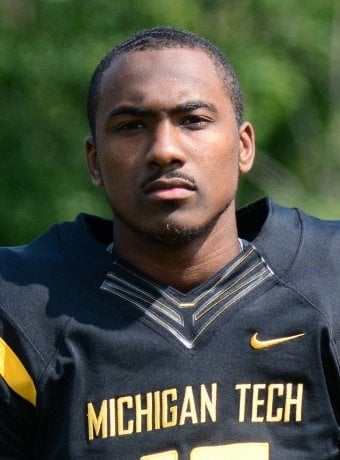 BS Business Administration 2018
As part of a continuing effort to empower student-athletes and develop strong leadership throughout the Michigan Tech community, the athletic department set up a leadership committee made up participants from all 15 varsity sports this fall semester. The committee meets weekly via zoom and is hosted by Tech football alumni Jaylyn Williams-Boone. Boone is a motivational speaker, whose company tailors' programs for personal development to various audiences.
Boone's primary goals this semester in working with Michigan Tech student-athletes are to help them grow through an understanding of three main goals. The program is nicknamed "Build with Boone".
Eradicate insecurity.
Introduce student-athletes to their gifts.
Teach student-athletes how to leverage their positions so they can create lifelong future opportunities.
"Student-athletes can get caught in a trap where they dedicate their lives to their sport for so long that when their athletic career ends, they have failed to identify who they are outside of that," Boone said. "I want to liberate them to discover for themselves that they all have unique gifts they can use to help themselves and others. What they start to realize is that these four or five years of college often represent the greatest networking opportunities they will ever have. Some of my greatest mentors are from my days at Michigan Tech and my ability to come back and serve in this capacity would never have occurred if I didn't build those relationships and take on leadership roles back in college. Leveraging those connections has helped me to become who I am."
Michigan Tech Director of Athletics, Suzanne Sanregret, together with a group of athletics administrative staff and coaches invited student-athletes to join this semester's leadership committee. Each was observed to possess unique leadership capabilities or characteristics either on the field, in the locker room, or in the classroom. Boone leads the program through a series of zoom meetings and provides them the tools to cultivate their gifts. Though he enjoys working with people face-to-face, he also acknowledged some real advantages of meeting in a virtual space during the global health crisis.
"I like to read the energy of the people in the meeting. On the screen I can see if someone is connecting with something I said and I like to call them out and invite them to share their perspective. Another advantage is that all someone needs to join the meeting is a laptop and an internet connection. Participation has been very positive."
Boone derives much of his ability to connect with people through his life experience. He grew up in Flint, Michigan and credits his high school football coach for empowering him to reach the collegiate level in athletics and eventually Michigan Tech. At Michigan Tech, he developed relationships inside and outside of sports and was invited to give a speech in February at Michigan Tech as part of a black history month celebration. He continues to look for ways to help people realize their potential as well as inspire and motivate them to embrace a purposeful lifestyle.
Though the semester is not even half completed, Boone has already noticed growth among the student-athletes involved.
"I have learned not to prejudge success and failure in the moment because both of those things come as part of the learning process," Boone remarked. "That said, we are seeing tremendous progress with student-athletes based on the feedback I've received from them personally and also their coaches. It's my job to continue to help them learn and grow."
Most Michigan Tech athletic events have been suspended at this time for health and safety reasons, but the hard work of individuals developing as leaders continues.
From Michigan Tech Athletics, October 2020