Drew Vettel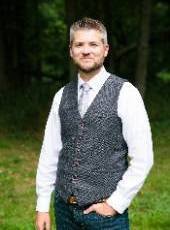 BS Mechanical Engineering 2005
MS Mechanical Engineering 2006
Why did you choose Michigan Tech?
The location, atmosphere, and value.

Tell us about a memorable experience you had with a class or about a favorite professor
A civil engineering guest lecturer once accidentally came into our very large Diff EQ/Linear Algebra class in the DOW and began telling a story about a very important decision that a transportation department needed to make: Install painted guard rails or galvanized guard rails. He was moments from the climax of his story when our professor, Dr. Gopal, interrupted him and told him that he must be in the wrong classroom. The guest lecturer was embarrassed, flustered, and left for the right room (next door) and our class was severely disappointed we didn't get to hear the rest of the story. Several students followed the guest lecturer because they HAD to know the rest of the story.

Now, how about a memorable experience outside of class?
I attempted to canoe from campus to K-Day with my roommate and several other friends (most of them had never canoed before). We spend at least six hours canoeing into strong winds before throwing in the towel and returning back to the dorms. We made it maybe halfway. Had a good day though!

How well did Michigan Tech prepare you for your career?
Very well. MTU provided practical real world examples throughout most classwork and group projects for a variety of job roles. I'm confident in my ability to figure out pretty much any problem I encounter, even if it is not directly related to my academic background or work role/experience.

What was your first job after graduation and how has your career progressed?
I took a role as a Maintenance Reliability Engineer that traveled internationally 50-75%. It gave me great exposure to a lot of different places and manufacturing processes and ultimately a wide background of knowledge that has supported my career interests and progression at Kohler.

Tell us about a few of your career highlights and notable achievements
I've been with the same company for 13 years and been able to work in Operations Support, Manufacturing, and New Product Development. I've been to five continents and 14 countries for work and made some good friends along the way. I am a founding member of Kohler's WasteLAB. Additionally, I'm on the cusp of turning a brewing hobby into a start-up business.

Please tell us why you share your time, talent, and treasure to support Michigan Tech students and/or alumni or volunteer in your community.
MTU was a great atmosphere to learn and grow in. I want to ensure that it stays that way on campus and contribute to improving the on-going off-campus connections and experiences for potential, current, and past students.

What advice on being successful would you give to Tech students and young alumni?
Don't be afraid to try something new or a little out of your comfort zone. You might like it and who knows where it could lead you.
Updated October 2020