Andrew (Andy) Van Dyke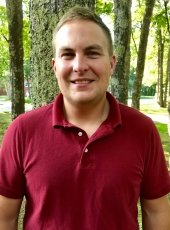 Andrew (Andy) Van Dyke '11 chose Michigan Tech because his parents Robert Van Dyke '77 and Karin Van Dyke '78, and grandfather Wendell (Buck) Buckland '53 attended Michigan Tech, but also because of the location and reputation of the school.
When asked how Michigan Tech prepared him for his career, Andy responded: "Very well. Not just book smarts, but with operational skills. Adapting, working through problems, dealing with difficult people, and balancing a massive workload."
After graduation Andy joined J.M. Longyear LLC as a Forestry Technician and soon was promoted to an Operations Forester position. He is now the Forest Operations Supervisor at Longyear based out of Marquette Michigan. "I have progressed faster than I had ever expected, I have been extremely fortunate with my experiences and role models."
Andy received the Michigan Society of American Foresters-Young Forester of the Year award in 2016.
His advice to students is: "Be patient, work hard, ask LOTS of questions, and never stop learning."
Andy is a volunteer member of the Michigan Tech Alumni Board of Directors. His grandfather Wendell (Buck) and mother Karin also served on the Alumni Board of Directors.
May 30, 2018