Denise Slattery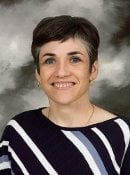 Why did you choose Michigan Tech?
I chose Tech for two reasons: one, it was the college my grandfather and an uncle graduated from and also where my father and another uncle attended but did not graduate; and two, it was a smaller college with more probability of having more one-on-one interaction with the professors.
Tell us about a memorable experience you had with a class or about a favorite professor?
I cannot recall a specific memory, but an overall experience with one of my Civil Engineering professors, Bogue Sandberg. I became highly interested in steel and reinforced concrete design as I enjoyed the way Prof. Sandberg taught the classes and how personable he was when I met him in his office to ask him questions. Even long after I graduated from Tech, I kept in touch with him via email. He was a great mentor to me during my time at Tech and afterwards into my career.
Now, how about a memorable experience outside of class?
There are so many! In my freshman and sophomore years, I played racquetball at the SDC and I remember walking up the hill from Coed Hall (now McNair Hall). That was quite a chore, especially when our walking rate was fairly quick. I guess we were excited to play racquetball!
How well did Michigan Tech prepare you for your career?
Michigan Tech prepared me in ways I don't know if I can put into words; however, one way was how I gained so much self-confidence. While being bullied throughout early years of schooling left me feeling like I wasn't accepted completely by my peers, Michigan Tech allowed me the freedom to be who I wanted to be without any reservations at all. I grew emotionally and academically so much during my years at Tech and I owe it all to the complete acceptance I got from everyone I met—from my peers to the faculty. Tech also fostered working hard as a trait of all students, and that seemed to fit with who I was.
What was your first job after graduation and how has your career progressed?
My first and only job was at the Oklahoma Department of Transportation. I came on board as an Engineer Intern, Level I and now, twenty years later, am an Engineering Manager in the Roadway Design Division. My career progressions have all been positive, with the feedback I got from my bosses through the years. I believe Tech gave me the confidence and other personal skills to help me through these progressions more easily.
Why did you choose to become a member of the Board of Directors?
I wanted to see how the Alumni Association operated and how it was fulfilling its mission and vision.
Tell us about a few of your career highlights and notable achievements?
Between my sophomore and junior years at Tech, I entered the United States Coast Guard Reserves by going to boot camp in Cape May NJ. After graduation from Tech, I signed up for a summer reserve program around the Great Lakes called Summerstock. That took me to the Station Manistee, on the eastern shore of Lake Michigan. It was there I was honored with the Sailor of The Quarter Award—I think it was the first time it was awarded to a Reservist.
What advice on being successful would you give to Tech students and young alumni?
Let Tech guide you through your life. By that I mean, "Use those gifts you've gained by being at Tech. You will always be a Husky."
Would you share your philosophy of life?
Work hard, have fun and enjoy whatever is ahead of you!
Provided by Denise Slattery, October 3, 2016