Sarah Carlson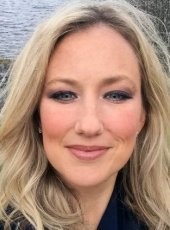 Sarah Carlson came to Michigan Tech as an aspiring physician and scientist.
"I knew I would get excellent training in chemistry and use that as the foundation for my future academic goals," she says.
The 2003 graduate says Michigan Tech gave her the tools to learn to think analytically and solve problems pragmatically.
Those skills were essential for her career as a vascular surgeon at Boston VA Medical Center and an assistant professor of Surgery at Boston University.
"My patients often have diseases of the arteries, such as atherosclerosis (which causes blockage of the arteries) or aneurysms (weakening and dilation of the blood vessels)," she says. "Every patient has unique anatomy, but principles such as fluid dynamics, physics, and basic chemistry inform the solutions to these physiologic problems."
After graduating from Tech, Carlson attended medical school and received a master's degree in clinical research from the University of Michigan. She served her residency in general surgery at Beth Israel Deaconess Medical Center. And, she completed her fellowship in vascular surgery at Dartmouth in New Hampshire.
During Carlson's residency, she received two National Institutes of Health (NIH) research grants for her work on omega-3 fatty acids in neurocognitive development and liver metabolism. She also was given a teaching award from the Harvard Medical students for outstanding resident teacher. And, with a team of surgeons, she helped to create a curriculum for an elective course at Harvard Medical School for medical students interested in surgery.
While at Tech she says her two favorite experiences outside of the classroom were playing violin with the Keweenaw Symphony Orchestra and spending time with friends at the Uphill 41 pub.
She says she wants students to understand that at the early stages of their career, "they don't need a long list of publications or a CV that shows a lot of experience. All you really need is enthusiasm, hard work, and hunger for more."
"It's important to find joy in what you do, every day," Carlson says. "Life is short. I'm reminded of this every day in my line of work. If you're not having laughter and joy in your day-to-day life, it's time for a change."
5 Under 35 Speaker, 2018