Sally Heidtke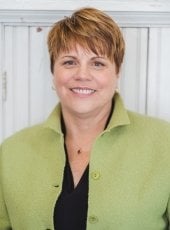 BS Chemical Engineering 1981
"I am a joyfully expanding work in progress. I love helping other people seeking to do the same."
For Sally Heidtke, life is an adventure and she embraces helping others through her work.
As this year's Outstanding Service Award recipient, she says, "There is nothing more rewarding to me than the success and heartfelt thanks of someone I had a role in coaching."
Heidtke graduated in 1981 from Michigan Technological University with a bachelor of science in chemical engineering. After a 25-year engineering career with Procter & Gamble, Heidtke changed gears and worked as a human resources director and vice president for nine years. Now she is a Body Code Practitioner, helping individuals resolve imbalances that are holding them back in their lives.
"Be curious. Open your mind and your heart to the opportunities that come your way. Engage with people who are different from you," she says.
Heidtke first came to Michigan Tech to attend the Women in Engineering program during high school. She says the program led her to choose engineering as a career and to attend Michigan Tech to earn her degree.
"I loved the campus, the amazing facilities and labs, the smart and fun people who attended, the beauty of the area and the amazing career opportunities available," she says.
As a student, Heidtke was a member of Blue Key and the Michigan Tech Student Foundation.
She continues her service with Tech as a Chapter Leader for the Iron Mountain, Michigan Alumni Chapter. From 2006 to 2013 she served on the Alumni Board of Directors and now is a Lifetime Director. She was inducted into Michigan Tech's Presidential Council of Alumnae in 2003. She returns to campus regularly to educate, influence and inspire the women of Michigan Tech.
She also was instrumental in the establishment, planning and execution of the University's first Women of Tech celebration event in 2012 and again in 2017. The event also established the Women at Michigan Tech Annual Scholarship fund. The scholarship has raised almost $165,000 to assist female students at Tech.
She also volunteers to facilitate a session for the Women in Engineering Learning Community on campus. This program gives Michigan Tech alumnae an opportunity to share with today's students their particular experiences of being a female working in the engineering field.
Heidtke says she enjoys giving back to her alma mater. "Life is such an adventure. I believe joyfully and purposefully unfolding into our individual life experience is what we're here to do. It's not static, it's dynamic. It's not particle, it's wave. It's not Newtonian, it's Quantum."