Josh Rzeppa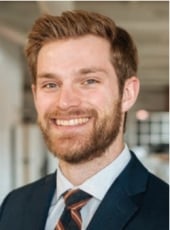 BS Mechanical Engineering 2018
MS Business Administration 2019
Josh Rzeppa, a native of Sterling Heights, Michigan, turned Husky, is currently working in Detroit as an associate consultant for INVENSITY Inc.
Josh earned his BS in Mechanical Engineering in 2018 before completing the TechMBA® in 2019 while running cross-country and track for the Huskies. He says the TechMBA® has advanced his career more than he ever thought possible. He leans on the MBA teachings every day in his work as an engineer: "I was assisting an older, more experienced colleague with a business marketing strategy when I thought back to the customer experience map we created in Dr. Soonkwan Hong's class for the Keweenaw Mountain Lodge project," said Josh. "I pulled it up to see if it could help in my work setting. As soon as I showed my colleague, he was amazed at the quality and how systematic it was. We quickly saw the value of creating one for ourselves and got to work.
"The more experience I gain as an engineer, the more apparent it becomes that most workforce problems are not necessarily engineering problems. Creating and implementing a new process, meeting an ISO certification, or deciding what ERP system to use may start from the engineer's side of the aisle and offer solutions for the whole company. However, if you want to see sustained success, you must take into account the economics, marketing, corporate strategy, incentives, and company culture—elements traditionally outside of the engineer's sphere. The TechMBA® directly provided insight to these perspectives, allowing me to start out at a much higher level."
From College of Business Impact Magazine 2020