Robert Freimuth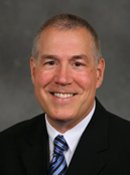 BS Business Administration 1977
Robert Freimuth has traveled far in a distinguished career with wide-ranging responsibilities in the automotive industry.
He has spent his entire career with General Motors Corp.
A native of Laurium, he joined GM in 1977 in the Central Foundry Division, where he went on to serve as director of labor relations, general supervisor, program manager for electrical vehicles, and account representative.
He was superintendent/industrial engineer at the Saginaw Malleable Iron Plant.
He has worked in GM's power train division as senior administrator of advanced engineering studies, lean manufacturing advisor, and manager of organizational effectiveness. Currently he is manager of GM's Global Manufacturing System Future Programs Team. He has served on the Board of Directors of the Michigan Tech Alumni Association and as a member of the Industrial Advisory Board of the School of Business and Economics. He currently serves on the Corporate Advisory Board for Institutional Diversity. He is a member of the McNair Society, which recognizes those who include Michigan Tech in their estate plans, and the Presidents Club, which recognizes those who provide annual support to the institution.
He and a team of GM's engineers visited campus in 2003 for "Engineering Trucks in the New Millennia," an event sponsored by the Society of Automotive Engineers. Such duties are routine because he coordinates GM's relations with Michigan Tech, a fortunate circumstance for us.