Jayson Ripke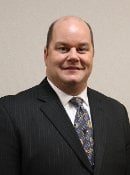 BS Metallurgical and Materials Engineering 1997
MS Metallurgical and Materials Engineering 2000
PhD Chemical Engineering 2002
Jayson received his B.S. and M.S. in Metallurgical & Materials Engineering and PhD. In Chemical Engineering all from Michigan Tech.
Jayson's extensive industrial experience began with Northshore Mining as a Process Engineer in the Iron Ore Pellet Plant with Cliffs Natural Resources (formally Cleveland-Cliffs, Inc.) and was soon promoted to Chief Metallurgist at CCI's Wabush Mines Concentrator in Labrador, Canada. He joined Midrex Technologies Inc. as New Technology Manager, focused on coal-based Direct Reduced Iron (DRI) technology and was soon promoted to Corporate as a Plant Sales Manager.
For six years Jayson was Vice President-Technical for Cardero Resources, a junior Exploration Company. One year ago, he returned to Midrex to lead their R&D Technology Center Operations. His career has taken him to Europe, Australia, New Zealand, China, Peru, Turkey, the Ukraine, and Kazakhstan. Over the past 2 years, Dr. Ripke has trained for and completed running five separate half marathons. He is very active in the Society for Mining, Metallurgy, and Exploration's (SME) Mineral & Metallurgical Processing Division's (MPD) and recently retired as chair of the division. In his spare time, he has been known to rebuild automatic transmissions and swap engines in his Jeep. He has 51 publications and 77 citations.
Jayson has been awarded the Arthur F. Taggart Award for the best SME publication of 2012 entitled: "New approach to developing the optimal mineral processing flowsheet," Mining Engineering, He received the 2005 Michigan Tech Outstanding Young Alumni Award, and the 2003 SME MPD Outstanding Young Engineer Award.
From the program for the 2015 Chemical Engineering Academy Induction