Travis Pierce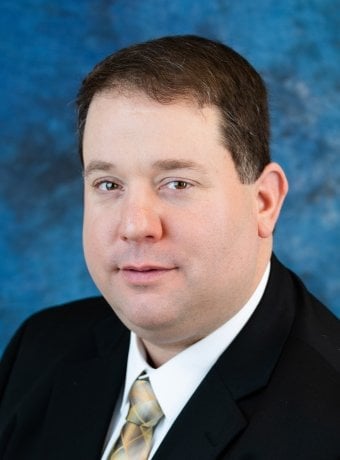 Travis Pierce spent 16 years at Michigan Tech working in residential education and student services. His impact on Michigan Tech students and work improving their experience led to his being recognized with the University's Honorary Alumni Award in 2020.
A graduate of Drake University, Pierce came to the Copper Country in 2003 to serve as Tech's Residence Life Coordinator. He held roles of Assistant Director of Student Life, Director of Residential Life, Interim Director of Student Activities, and Title IX Investigator over the next 16 years. For the final 11 years of his time at Tech, he served as Chief Housing Officer and Director of Residence Education and Housing Services.
Renovations at Daniell Heights and McNair Hall and the construction of Hillside Place all occurred with Pierce leading residential life. He also notes that those weren't the only changes that took place. "I am very proud that our team moved from a traditional programming model to a more intentional student engagement experience using a curricular approach."
As the Chief Housing Officer, Pierce was responsible for budget and facility management of 29 residential buildings and approximately 3,100 students each year. He coordinated with many departments on campus to meet needs for student housing and enhance the living-learning community.
Outside of his regular duties, Pierce regularly took on other University roles and projects. He helped create and found Michigan Tech Emergency Medical Services in 2010. He was part of numerous task forces, held leadership roles within University Senate, and participated on teams for crisis preparedness and academic and behavior intervention with students.
"Helping establish Michigan Tech EMS was one of my most notable achievements. It is an extraordinary group of students who served their community. A few have even gone beyond their EMT training and are now paramedics, nurses, and doctors."
Pierce cites opening weekends and orientation weeks as being his most memorable moments at Tech. "It's the time of year when the entire campus comes together for the single goal of welcoming new students and their families," he said. "The energy and excitement is difficult to describe in words."
Pierce credits his parents, former colleagues, and students for inspiring him. "I was raised to serve and give back to my community. University leaders and colleagues encouraged me to try new things and do something that would positively impact our students. Their support was appreciated, but what kept me motivated was the students. Tech students are like none other, and I find them to be some of the most incredible people."
"Once a Husky, always a Husky" is a mantra Pierce continues to live by.
"At Michigan Tech, you're part of a pack, a family, a tradition. I love having someone approach me when I'm wearing Husky gear. I will continue to support Michigan Tech however I can."
Alumni Award Profile August 2020