Pete Moutsatson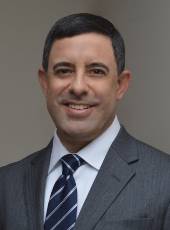 Why did you choose Michigan Tech?
MTU was the right blend of educational challenge, "adventurous distance" from home, and outdoor recreation options. And when my college acceptance letter arrived hand-signed by the Director of Admissions (unlike the photocopied letters from other schools), I knew Michigan Tech would provide the personal approach I'd appreciate.
Tell us about a memorable experience you had with a class or about a favorite professor
A favorite class was an elective outside of my ME major, and that was geology. Being lucky enough to take it during a summer term, I was fascinated to learn about the foundation of the geological world around us, and then to see it first-hand via field trips up and down the Keweenaw Peninsula during a glorious U.P. summer.

Now, how about a memorable experience outside of class?
So many experiences...An unforgettable learning experience was when I was the lead organizer of the Air Force ROTC-sponsored 10K Challenge, a community-wide biathlon event of cross-country skiing and running at the Tech Trails and local roads. From organizing the student-led team, to fund-raising, working with local law enforcement, overseeing the race, then leading the awards ceremony, I learned at a young age the basics of how a real-world event is operated.

How well did Michigan Tech prepare you for your career?
MTU's combination of remoteness, small size, and academic rigor truly required us students to pull together if we wanted to succeed, as if we were all in the same lifeboat. That necessary mutual trust and friendship is a life skill that I applied in my career and in society after I graduated.

What was your first job after graduation and how has your career progressed?
I was a commissioned officer in the US Air Force, starting as an aerospace systems engineer at the USAF Astronautics Laboratory--yes, I was a rocket engineer! I left the engineering field as I rose up the ranks and had many different roles in aviation, program management, science and technology management, and senior staff positions. However, my engineering training was the foundation of my ability to think critically and converse with the scientists and engineers developing solutions for our country's warfighters.

Tell us about a few of your career highlights and notable achievements
My biggest achievement was far exceeding my original aspirations in the US Air Force by reaching the rank of colonel. Favorite highlights included flying almost 800 hours of combat support as an air battle manager, then later being in charge of all technology development for the Air Force's special forces warriors who were deeply entrenched in combat in Iraq and Afghanistan in the mid-2000's.

Please tell us why you share your time, talent, and treasure to support Michigan Tech students and/or alumni or volunteer in your community.
I feel a strong obligation to serve society, in recognition of the privilege of living in the greatest country in the world. With my military service completed, I'm thrilled to turn my attention to "giving back" to the university that started me on my way, and to ensure the next young person has even better opportunities than I did.

What advice on being successful would you give to Tech students and young alumni?
Be a person of absolute integrity and truth--integrity cannot be recovered if lost. Find a way to serve your community, even if in a small way. Strive for excellence in all you do--never let anyone think you did less than your best effort.
Updated October 2020