Kevin Moran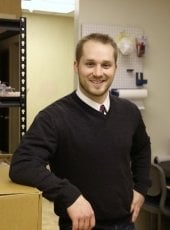 BS Mechanical Engineering 2010
Kevin Moran says Michigan Tech gave him the spark to learn and solve problems, leading him to become an engineer who is passionate about his work.
Moran manages manufacturing operations and is the lead mechanical designer at H3D gamma, a new company working to revolutionize the way industry identifies and localizes gamma-ray sources.
"I don't feel I'm special or different," he says. "I'm just an engineer who is passionate about what I do."
He says Michigan Tech provided him with everything he wanted at a university. "Tech had a stellar reputation, a unique location, and surrounded me with the kind of people I like to interact with. It didn't coddle me or give me any special treatment. I was expected to perform academically, get help, or leave. This is a great lesson and taught me it was time to grow up."
After graduation, Moran worked on engine design with Chrysler Powertrain. That led him to being an inventor for Manoj Bhargava, the founder of 5-Hour Energy®, to starting a second business and then to his current position at H3D Inc.
Moran says he is proud to have graduated from Tech, even though sometimes he struggled academically. "At times I didn't think I was going to make it," he says. "Academics are very important but just because you are average doesn't mean you can't reach your goals. Tech taught me to never give up and that nobody has the same route to success."
Outside of work, Moran is a lifelong hockey player of 28 years and counting. He says hockey has taught him you cannot do anything alone and teamwork is important. In 2014, he climbed Mount Denali in Alaska.
"Denali taught me several things," he says. "What's really important, attitude is everything, nothing can substitute for experience, and the journey has more lessons than the destination ever will. When in doubt go on an adventure."
Moran's next quest is to cross Australia in 2019 on a motorcycle, traveling 3,500 miles in 16 days.
He offers students this advice: "Stop trying to know someone, and start becoming someone to know. The rest will fall into place."
From the 5 Under 35 2018 event