Mike Milosh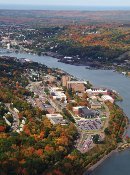 BS Mechanical Engineering 1982
As a farm boy growing up in northern Michigan, Mike Milosh dreamed of the sea and the adventures of Captain Nemo and Mike Nelson of the TV show Sea Hunt. He even worked on plans for a one-man submarine. So when a real-life adventure presented itself, he didn't have to think twice.
The Michigan Tech mechanical engineering alumnus never thought that adventure would involve searching for gold coins and bars 8,000 feet down in the Atlantic. "It was one of those once-in-a-lifetime opportunities that you can't turn down" Milosh says. It took him a long way from his Columbus, Ohio, home, and it would blossom into his successful career.
In 1988, he was working at Battelle Memorial Institute, an Ohio-based R&D firm, when he caught drift of a co-worker, Tom Thompson, investigating the wreck of the SS Central America.
Thompson and his team located and identified the shipwreck 200 miles off the coast of South Carolina. Thompson approached Mike to be lead engineer to design, build and operate a new remote operated vehicle (ROV) and special tools needed to do the delicate recovery operations.
"There wasn't a lot of experience with this type of vehicle at these depths and circumstances" Milosh says. "We were looking at picking up delicate objects from a mile and a half away while bobbing around in a boat. One scratch and you destroy the value of a coin."
It was a challenge Milosh couldn't resist. So he joined Thompson in the search and recovery of the SS Central America's gold, so much (over three tons) that the ship's loss caused the Panic of 1857 and a run on the New York City banks for which it was heading.
"I spent three seasons at sea and even got to find the largest bar ever, 74 pounds and dubbed the Eureka's bar. It later sold for a record $8 million"; he says, although none of the proceeds ended up in Milosh's pocket.
Milosh and his team improvised much of the technology, computer and otherwise, on the ROV, a perfect challenge for a Michigan Tech alumnus. "We had one of the first force-feedback, undersea manipulators. One of my favorite tools was a hook that looked like [the superhero] Wolverine's claw hands, but with padded fingers. I used it for feeling around in the mud for bars," he says. Other "high-tech" tools included a modified kitchen dustpan, a tree-trimmer's chainsaw, and a deep-sea vacuum cleaner for gold dust and coins.
"We were pushing the envelope!" he adds, "And our computer system was based on old IBM PC technology! We had one of the first fiber-optic tethers, and I had to figure out how to splice high-voltage, fiber-optic cable on the deck of a rolling ship" he remembers.
"We had these massive broadcast-quality cameras that had to be placed in pressure-tight housings," Milosh goes on to say. "Thompson, who liked adapting everyday items to the task, prided himself on the foam-lined K-Mart totes we used to haul up the gold."
And haul it up they did. $150 million worth (and no, Milosh didn't get any), the greatest treasure ever found, according to some experts.
They should at least have gotten hazardous-duty pay.
"Once we were having trouble getting the ROV back on board in a good-sized storm," Milosh says. "I was working down near the waterline and my tender, the guy who watched out for me, saw a wave coming, stomped his foot down on me and told me to hold on. I looked up to see a coworker and I were submerged under three feet of breaking water while hanging over the side of the ship."
There were other close calls. Hurricane Hugo caused them to make a run for Wilmington, N.C., where they encountered a different type of danger.
"We had to hire security guards, because our vault was full of gold," Milosh says. "When the weather broke, we went back out, where it was safer, even though we bobbed around in eight-to-ten-foot seas for more than a week before we could start work again."
Another interesting haul featured two trunks with personal possessions, including some from a honeymooning couple: a loaf of bread and bottle of wine wrapped in a newspaper. The couple survived. The groom was Ansel Easton, the great uncle of famed photographer Ansel Adams. Coincidentally the second trunk belonged to Easton's business associate, who was traveling with them and also survived.
"Dressing gowns and underwear. That was a big deal" Milosh says. "People always save formal gowns and uniforms, but nobody saves their underwear. The textiles experts went crazy for it." The trunks also contained daguerreotype photos, jewelry, dueling pistols and letters.
Milosh came by his do-it-yourself abilities early.
"On our Michigan farm, we had a small machine shop, where we fixed and built our own stuff," he says. "When I was graduating high school, I got a brochure on mechanical engineering at Michigan Tech, and I was hooked."
This early engineering, the R&D stint at Battelle and the sunken-treasure salvage work all led to his current business, Mitech Systems, Ltd., located near Sunbury, Ohio.
"We provide practical, nuts-and-bolts engineering services," he says. "I've had the privilege of working in a wide range of technical areas, but the basic engineering principles I learned at Michigan Tech still apply. My experiences allow me to approach problems from an unusual perspective and come up with creative ways to do what sometimes seems impossible."
This profile appeared in the article "The Mechanical Engineer and the Sunken Treasure" in the March 29, 2013, edition of Michigan Tech News, by Dennis Walikainen