Michelle Boven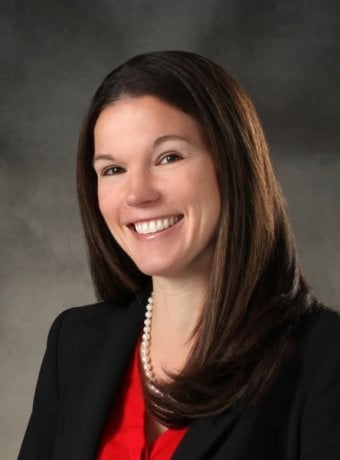 BS Mechanical Engineering 1999
Michigan Tech teaches how to "survive and thrive." The weather and the distance from home really taught Michelle how to handle anything that came her way and the importance of building a network of people she could trust. These lessons learned at Michigan Tech have helped pave her career, where she is currently the Global Business Director for Performance Intermediates, a business unit of Industrial Solutions at Dow. In her role, Michelle is responsible for leading a global, integrated business portfolio comprising Dow's Ethylene Oxide (EO), EO Derivatives and Oxygenated Solvents product families. Leading up to this role, her 22-year career with Dow has included numerous leadership positions, including global and regional marketing director roles, regional product director, new business development leader, commercial excellence leader, and global project success leader.
Even today, Michelle maintains her strong Michigan Tech network as part of the College of Engineering Advisory Board, Institutional Diversity Corporate Advisory Board and her leadership in recruiting for Dow at her alma mater. She values giving back as a way of saying thank you to everyone that has helped contribute to her success.
Growing up in Saginaw, Michigan, Michelle was very active, spending time with her family boating and camping, and participating on her high school track and field, cross-country and downhill ski teams. During high school, she was also a co-op for Dow. This experience prepared her and ultimately helped her decide to attend Michigan Tech to study mechanical engineering, where she found the value of the education, experience and cost to attend an unbeatable combination.
While attending Michigan Tech, Michelle was on the varsity track and field and cross-country teams where some of her best memories were competing at a collegiate level. The time spent traveling as a team for far distances helped build a great camaraderie. In addition to athletics, Michelle fondly remembers her time as a tutor in the math learning center where she was able to give her best tip to study in small groups which was also a way to build friendships, learn from one another and have fun. In addition, she advised that study groups were a great way to stay motivated, pick up good study habits, compare class notes, and learn different perspectives, which leads to retaining and mastering information.
Michelle encourages young alumni to have fun and enjoy the journey at Michigan Tech. As a mother of three children in a dual career Dow family, the journey at Michigan Tech helped to set her up for where she is today, based in Houston in a place where she loves her work as well as raising her family.
Updated January 2022