Michelle Boven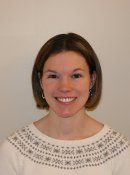 BS Mechanical Engineering 1999
While Michigan Tech is a predominantly male university, women have many opportunities to excel. Michelle Boven, a 1999 mechanical engineering graduate is just one real-world example of this. She was selected as the 2006 Distinguished New Engineer by the Detroit Chapter of the Society for Women Engineers for her accomplishments.
Growing up in Saginaw, Mich., Boven was very active. Her family was big into boating and camping. During her high school days, she was active on the track, cross-country and downhill ski teams. She also co-oped for Dow Chemical. This experience prepared her and ultimately helped her to decide to attend Michigan Tech.
"For the cost to go to Michigan Tech, and the education you get, you can't ask for a better school," said Boven. She was also very active at Tech, as she was on the track and cross-country teams. She was also the goalie for the women's hockey club, and she trained with the Nordic ski team. Most important to her was her service-related activities including being an R.A. in Douglas Houghton Hall and being a coach in the Math Learning Center. "I focused on helping students with disabilities such as ADD or dyslexia," said Boven. "I myself have dyslexia, and I actually consider it a strength. By having a disability, you learn how to overcome things. For me, whenever I see a challenge, I see opportunity."
Attending a school with such a solid engineering program that allowed her to be involved in so many things made the decision to come to Tech that much easier for Boven. "What I saw in Tech is that you get this great education, but at the same time, you also get to do the things you love to do," said Boven. "I think that's what makes a great employee: somebody that's really well rounded." According to Boven, Michigan Tech also has a great environment with the people being friendly and the class sizes being small. "Michigan Tech was the perfect place for me."
Thanks in part to three internships during her years in college, two at Dow and one at GM, Boven had a real understanding of the big picture in industry, and she decided that she wanted to return to Dow. She was hired into the Research Assignment Program at Dow. After trying a few different things, she settled into the Technology Service and Development branch of the automotive division. "It was a technical role, but it involved sales, research and development, so it was the best of both worlds," said Boven.
She then transitioned into a new role as the commercialization leader for structural foam inserts, which she ultimately received a patent in. She also helped commercialize IMPAXX, an energy-management foam, before transitioning into her current role in the Dow Solar Team. There she is also exposed to the sales end of projects, and in pursuing her MBA, she conducted market research relating to solar technology. "I love being able to take something that doesn't exist in the market and being able to put the pieces of the puzzle together to commercialize it," said Boven.
Due to her work in commercialization, she received the Distinguished New Engineer Award in 2006. "It's an honor, but if I feel like I've helped people, that's the true value. I think it's great to be recognized, especially when it comes to receiving support from Dow, but to me, helping others is the most satisfying thing I can do," said Boven.
Despite the professional accolades Boven has received, she is first and foremost dedicated to her family. She and her husband Tim reside in Midland, Mich. with their three-year-old daughter Kayla. Tim has a successful career working for Dow Chemical as well.
"I could never do what I do if it wasn't for my husband. It's important if you want to do a dual career that you find somebody who wants to do the 50/50 with you," said Boven. "I really strive for work/life balance. My job is important to me, but my family has to come first."
In terms of future goals, Boven would like to help commercialize more products and eventually become a director at Dow. For her family, she would like to have a few more children, travel more and have fun. "If you're not having fun, you need to stop and ask yourself why you're not. I look at what's important to me, and right now, I'm having fun."
With a successful personal and professional life, Boven has some advice to offer students looking for something similar: "Look at what matters most to you, and look at the big picture in making decisions. Remember also to enjoy the journey. If you get to where you think you want to go and it's not what you thought it was, how awful would that be if you didn't enjoy the journey."
Boven was selected to receive the 2009 Outstanding Young Alumni Award.
by Stephen Anderson, reprinted from the Michigan Tech Lode (2-20-08)