Cynthia May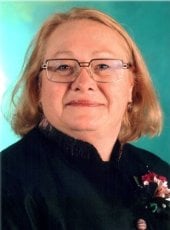 BS Business Administration 1976
Cynthia May's career path is as interesting as it is diverse.
Since 1997, Cynthia has been the President and CEO of Graminex LLC, a company that grows, manufactures, and markets agricultural products for pharmaceutical and dietary supplement applications. She began her career in 1974 as the CEO/Owner of B&M Electric. She sold B&M in 1980 and started a new career as an Investment Banker at Marathon Investment Partners, a privately held capital funding company specializing in small cap company IPOs and international banking. In 1995, she became the Director of Magna Labs, a company focused on advanced MRI machine development. From 1999 to 2002, she was President of Bigmar Pharmaceutical, an international company specializing in generic oncology drugs. During this same time, she was Managing Director and CEO of AB Cernelle, Sweden.
In addition to her current position as President/CEO of Graminex, Cynthia serves as Director of Saginaw Control and Engineering, is the Continuing Managing Director of Marathon Investments, serves as the Managing Director of Confinement Resources (a privately owned maximum juvenile prison), and is Managing Director of Graminex Austria.
Cynthia attended Concordia University from 1969 to 1972, studying general and special education. She attended Michigan Tech from 1972 to 1976, graduating with a bachelor's degree in Business – Economics.
Within her community, Cynthia has served on the St. Peter Lutheran Building Committee and participated in numerous Valley Lutheran fundraisers. She is the past Chair of the American Heart Association Fund.
Cynthia and her husband Frederick (Michigan Tech '74) reside in Hemlock, MI and have three daughters: Heather, Colleen and Rachel (Michigan Tech '06).
From the 2006 Presidential Council of Alumnae Induction.