Daniel Madrid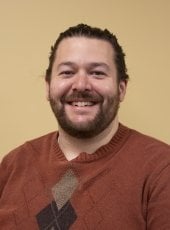 Daniel Madrid received his BS in Computer Network and System Administration and in international minor in Spanish in 2010. After visiting during a campus tour, the area, campus, and enthusiasm of everyone he came across showed Daniel that Michigan Tech was the place for him.
As most Huskies can relate, Michigan Tech taught Daniel many things, including tenacity. "I learned to rely on myself and my fellow Huskies to get through classes, winter, and being so far from home," he said. "That tenacity and comradery combined with the technical competencies that I learned made it easy to transition into my career."
Daniel joined Ford Motor Company as a business analyst right out of college. Today, he is a principal software lead helping drive the company's cloud platform and enterprise connectivity organization for its future vehicle architectures. Throughout his career, Daniel has received several patents and the Henry Ford Technology Award for driving innovation in how the company sends software updates to vehicles.
Looking back on his time at Michigan Tech, Daniel remembers being in the lab late one night and working with his group, unable to determine why their code wasn't working. There was someone up in the front of the lab dressed in a ball cap and jeans who they thought was another student. Turns out, it was their professor working on his own project. After he heard the group struggling, he stopped what he was doing and came over to help the group of students. That professor's dedication to his students stood out to Daniel.
Daniel also shared another special memory: "I met the woman that would become my wife while making grilled cheese in my residence hall. I'd say that was pretty memorable."
Daniel is an active member of the Michigan Tech Alumni Board of Directors. "My time at Michigan Tech shaped me into the person I am today and I enjoy being able to give back to the University," he said. He advises current students to rely on and support fellow Huskies. "Wherever life takes you after graduation," he says, "go all in."
Updated September 2022