Jason Mack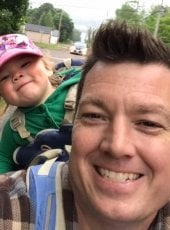 BS Mechanical Engineering 2000
BS Business Administration 2000
MS Business Administration 2013
"Work hard, play hard, and always experiment with new ideas, new jobs, and new ways of thinking"
Those words of advice to students are from Jason Mack who says Michigan Tech prepared him for his career in more ways than he thought possible.
Besides the important lessons learned from such a strong engineering curriculum, I found added strength to Tech's ties to industry, one firmly supported with co-op experiences. He says "Michigan Tech offered the mix of degrees I was interested in while having the personality and amenities that felt just right".
Mack earned his bachelor's degree in mechanical engineering and business management in 2000 and his MBA in 2013, all from Tech. When he graduated with his bachelor's he had interned at three businesses including one in Germany. "I always tell people that it's just as important to find out what you don't want to do as much as what you like to do. It was through these experiences that I further defined the career path I wanted to take".
After graduation, Mack worked in Houghton in an engineering/management position with MSX International to learn project management, team development, and working with various automotive customers. Because of his experience with creating and developing a sustainable, satellite office, he then worked again in Houghton for Smiths Aerospace (which eventually became GE Aviation). For the past four years, he has served as the Vice President of Business Development at MTEC SmartZone, working with early and mid-stage entrepreneurs.
When Mack returned to Tech for his master's, he says he had a "fantastic experience obtaining his MBA with a focus on international business." The class spent a week in Bangalore, India presenting to businesses. "It was an amazing experience that blended education, business, and culture. Graduation for our class was quite bittersweet and to this day I maintain communication with many of my fellow MBA classmates.
Outside of the classroom, Mack's favorite time was Winter Carnival. From the month-long statue competition, skits, and more, he says the time spent with his Greek organization strengthened the bond with his brotherhood and Tech.
Another memorable moment occurred two quarters before graduation, when Mack was asked to travel to Coventry, England to mentor and teach engineers at Jaguar Cars. "This three-week to three-month trip kept me in England for about two years. I'm guessing I was one of a small number of people who was able to obtain a work visa to England with only a high school diploma."
Mack says he is fortunate to call Houghton home. "I have hired hundreds of Michigan Tech students, discussed business and technology with faculty and department heads, and recently, have hauled buckets of mud out of a friend's home with Michigan Tech students by my side. I have travelled the world and I would be hard pressed to consider calling any other place my home."
2018