Garrett Lord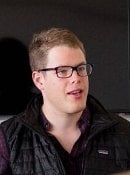 In 2014, Garrett Lord was studying computer science at Michigan Technological University and trying to find an internship in Silicon Valley. He wasn't having much luck. Silicon Valley companies didn't tend to look for interns at a small, engineering-centric school on the Upper Peninsula of Michigan. Yet he knew that students at big-name schools nationwide had no trouble finding those opportunities.
What could level the playing field? The answer was a Handshake away.

Lord and fellow Michigan Tech students Scott Ringwelski and Ben Christensen designed a new college-career network called Handshake, a software program that makes it easy for students to find and apply for internships and jobs, enables employers of all sizes to locate the talent they're looking for and helps college career centers do their job.
They started going to career fairs and talking to students. That's when Christensen—now Handshake's product manager—became convinced that they were onto something big. "College students are smart, knowledgeable people who were struggling to find a job that was a perfect fit."
Like so many start-ups, the young entrepreneurs developed Handshake in the shabby confines of an old rental house near the Michigan Tech campus. They piled into a rusty Ford Focus and drove 40,000 miles, talking up their product and looking for their first client.
But unlike many other start-ups, theirs was an idea that clicked. Handshake has since moved to Silicon Valley, grown from three to 30 employees and just received $10.5 million in venture capital funding. Sixty universities and 40,000 companies are using the career-finder app, and Lord's goal is to have 180 or more schools and 75,000 employers on board in the next six months.
Not that it was easy. "It's incredibly hard to build a company," says Lord. "It's the hardest thing I've ever done. There wasn't a single month during the first year that one of us didn't get sick from not sleeping."
But Lord and his co-founders are young men on a mission.
"We want to help every college student find the right job for them, no matter where they go to school, what they're majoring in or who they know," the company's founders explain. "We want to make it easier for employers to find the right talent, wherever it may be, and we want to give all colleges the tools help their students achieve their dreams."
Excerpted from Michigan Tech News article "Students, Employers, Schools Match Skills, Opportunities using New Career Networking Program" by Jennifer Donovan, March 21, 2016