Ken Leisenring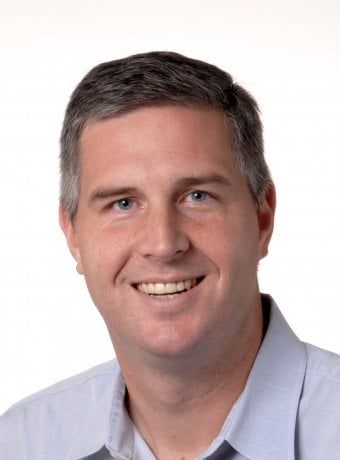 BS Electrical Engineering 1993
A highlight of many Michigan Tech student-athletes' collegiate careers includes every victory made over the fellow upper peninsula rivals, Northern Michigan University. "I chose Michigan Tech because I wanted to get a great engineering degree while playing college basketball and Michigan Tech was a great opportunity for both," recalls Ken, a BSEE graduate and varsity basketball alumnus.
"Michigan Tech did an outstanding job of preparing me for graduate school and my career. Even though my BS was in EE, I was able to get an MS in ME because the Michigan Tech undergraduate curriculum was so comprehensive. Once I started my career, the practical application of engineering taught at Michigan Tech enabled me to quickly contribute to the engineering projects I was involved in," remarked Ken.
Ken has spent his career since graduation at Ford Motor Company. He started as a Control Systems Research Engineer and moved through various positions in Advanced Powertrain before eventually settling down in Powertrain Calibration (Systems Engineering), where he is now Chief Engineer for Vehicle Propulsion Systems Engineering. Growing up in Gladstone, Michigan, he currently resides Dearborn.
Ken remembers his days in Paul Lewis' senior controls lab. "Professor Lewis taught the class and the lab and would show us extra concepts and activities after we completed the assigned laboratory assignment for the day. We learned so much about controls during those extra sessions. When I went on the graduate school and then into industry, I had a clear leg up on my peers about controls systems practical knowledge because of all that extra time Professor Lewis spent with us."
This hands-on experience paid off for Ken, as he has had opportunities to work on several Ford and industry first applications, including Ford's EcoBoost engines, adaptive cruise control, new diesel technologies, and new tri-metal catalysts. Through these and other significant projects, he has obtained several patents on technologies being implemented in Ford vehicles today.
Ken currently serves on the Michigan Tech College of Engineering Advisory Board and the Electrical Engineering Advisory Committee. "I had so many people in my life who helped me academically, athletically, and professionally that I simply want to 'pay it forward' as much as possible. I want to try to help people as much as others have helped me," said Ken. He advises young alumni to learn what it means to be a great engineer and how that might be different from being a great engineering student. Try to become the best engineer possible while contributing positively to any project you work on. Become a person that your teammates can count on in the most difficult of times and can turn to for teaching, coaching and mentoring. Long term, do your best to demonstrate outstanding engineering and outstanding leadership.
Updated January 2022