Laurie Schwerin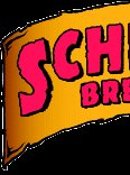 BS Business Administration 1987
Alums Team up to Engineer a Better Beer

Chas Thompson '91, computer science, had a good reason for becoming a brewer.

"I was thirsty," he says, pouring beers from the Schmohz Brewery counter at the recent Grand Rapids alumni tailgate party.

Jim Schwerin '87, owner and brewer at Schmohz (pronounced shmoes), had a similar reason.

"I couldn't find a beer I liked," he says.

So, he bought an old building near the airport in Grand Rapids and extended his love of homemade beer into his own brewery, starting with his own brewer, Thompson, who tracked him down when he heard a new brewery was opening in Grand Rapids. "Once we got together, we found out we had quite a few friends in common, including my brother who was at Tech around the same time as Chas," Schwerin says.

Schwerin, a mechanical engineering graduate and application engineer for an automotive firm in the area, started brewing his own on weekends, and soon the hobby grew into an avocation. He still hasn't quit his day job, but . . .

"I wouldn't rule that out someday," he says.

His beers are doing well, all twenty-five-plus brands, "depending on the season and our attitude," according to Thompson.

But, his most widely distributed brew is actually root beer, which has just been taken on by Meijer stores, the large discount chain that is based downstate.

"That could be huge," Schwerin says. "And I'm trying to get restaurants to feature our beers. It's frustrating because it won't cost them anymore to feature them than regular beers. It's just convincing them."

Schwerin's wife, Laurie '87, a business major, also helps out at the brewpub, where they keep twelve beers on tap. She tends bar and helps run the business.

At the tailgate party, they offered six options to choose from, with names like Hopknocker Imperial IPA, Bone Crusher Stout, and Valley City Cream Ale. Business was brisk, a line was forming, and the root beer was also popular.

"We make our beer old-world style," Thompson says, as he fills the cups. "We prefer the European style, with real ingredients like barley, not rice and fillers."

Thompson says they use "an incredible amount of grain," as he shows his dexterity. "I can text and talk at the same time, too!" he informs a laughing alumni couple.

Another couple arrives, back too soon it seems, for Thompson. "Here's a [gallon] bottle," he says. "Share it at your table and bring it back. Empty."

There are a couple more hours before the game begins, and the assembled alumni and friends are getting caught up with each other around some burgers, brats, and a nicely engineered brew.
Excerpted from Tech Today October 7, 2009 by Dennis Walikainen, senior editor